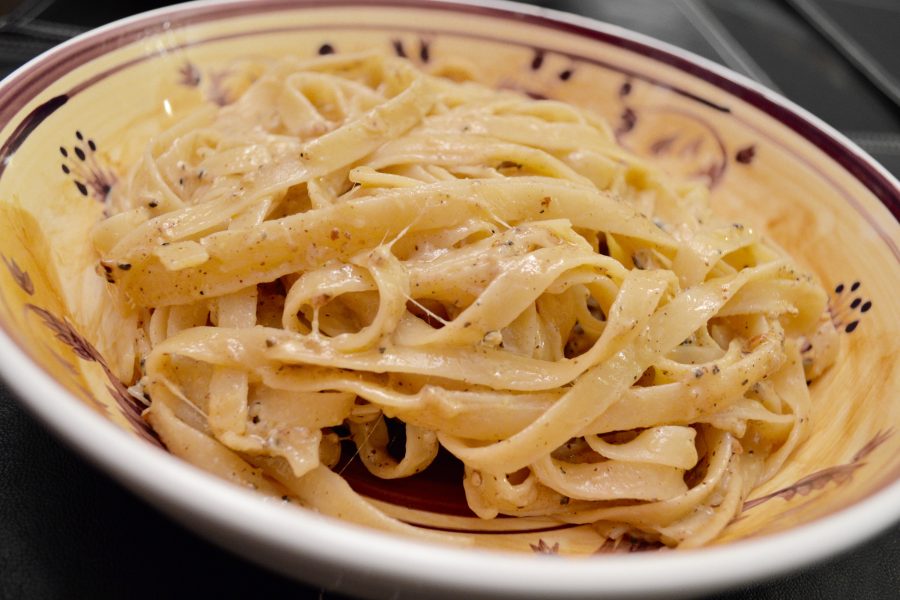 When I was in Rome, I couldn't eat enough Cacio e Pepe—the patron pasta of Roman dishes. It was simple yet elegant with its cheesy, peppery goodness, and totally something I could recreate at home. Except the Romans are missing a key ingredient—beer! With all the delicious Italian-brewed farmhouse ales, I couldn't help but wonder what the earth and spice notes of a traditional Saison would do to this dish. The answer? Wonders!
Ingredients
Kosher salt
12 oz pasta (author used Fettuccine)
6 Tbsp unsalted butter, divided into cubes
2 Tsp freshly cracked black pepper
1 cup of Saison (go for a traditional one without citrus or other flavor additions)
1 1/2 cups of finely grated Parmesan
2/3 cup finely grated Pecorino
---
Directions
To make this Cacio e Pepe with Saison, boil water for pasta. Once the water is boiling, season with salt and cook pasta. Follow the package instructions, and drain about two minutes before done. Be sure to reserve a cup of the starchy, cooking water before draining.
Melt 4 Tbsp of the butter in a large skillet over medium heat. Add the pepper to the butter. Swirl the pan for one minute until the pepper is toasted and fragrant.
Pour beer into the skillet. Once the beer is simmering, add the pasta and remaining butter. Reduce heat to low and add Parmesan cheese.
Toss the pasta until the cheese is melted. Remove skillet from the heat.
Add the Pecorino and toss pasta until the cheese melts and the sauce coats the pasta. If the pasta looks dry, add some of the reserved starch water.