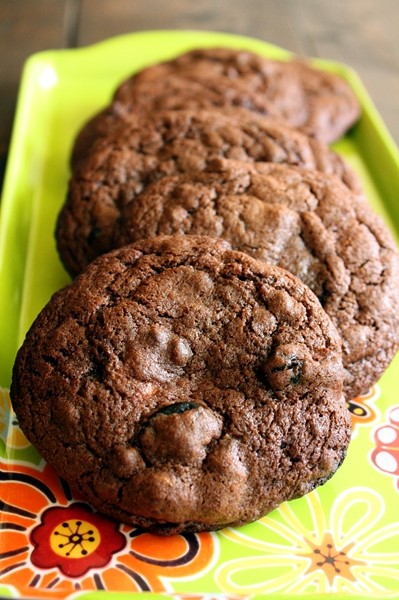 LeAndra, author of Love & Flour, shares her recipe for these amazing lambic cookies that combine the classic flavors of cherry and chocolate with the added bonus of a cream cheese filling.
Ingredients
11/4 cups flour
1/3 cup unsweetened cocoa
1/2 tsp baking soda
1/2 tsp baking powder
1/4 tsp salt
1/2 cup cherry lambic
1/2 cup dried cherries
1/2 cup (1 stick) unsalted butter
1 cup brown sugar, lightly packed
1 egg
1/2 tsp vanilla extract
1/2 cup mini chocolate chips
Cream Cheese Filling
4 ounces cream cheese, softened
2 Tbsp granulated sugar
1 tsp vanilla extract
---
Directions
Whisk together the flour, cocoa powder, baking soda, baking powder and salt.
Place the lambic and the dried cherries in a small saucepan over medium heat.
Bring to a boil, reduce heat, and allow to simmer for about 5 minutes. Remove from heat once the liquid has been reduced to two tablespoons.
While the liquid and cherries cool, cream the butter and sugar.
Add the eggs and the vanilla and beat until smooth.
Beat in the dry ingredients until just combined.
Fold in the dried cherries, the two tablespoons of the reduced liquid and the mini chocolate chips.
Refrigerate the dough overnight or place in the freezer until firm.
While the cookie dough is chilling, prepare the filling.
Beat the cream cheese, the sugar and the vanilla together until fully combined and slightly fluffy.
Refrigerate at least 15 minutes before using to fill the cookies.
When ready to bake, scoop one heaping tablespoon of cookie dough and gently press to flatten.
Repeat this step to make an additional disc of dough.
Place one teaspoon of filling onto one of the pieces of dough, then top with the other and pinch the edges together while gently forming into a ball.
Return the formed cookies to the freezer for at least 15 minutes. They should be firm and no longer sticky before baking. It is imperative to chill this dough in order for the cookies to hold their shape.
Place on a parchment-lined baking sheet and bake at 350°F for 12-14 minutes. The edges of the cookies will appear lightly browned and the centers will be set.
Place on wire rack to cool.