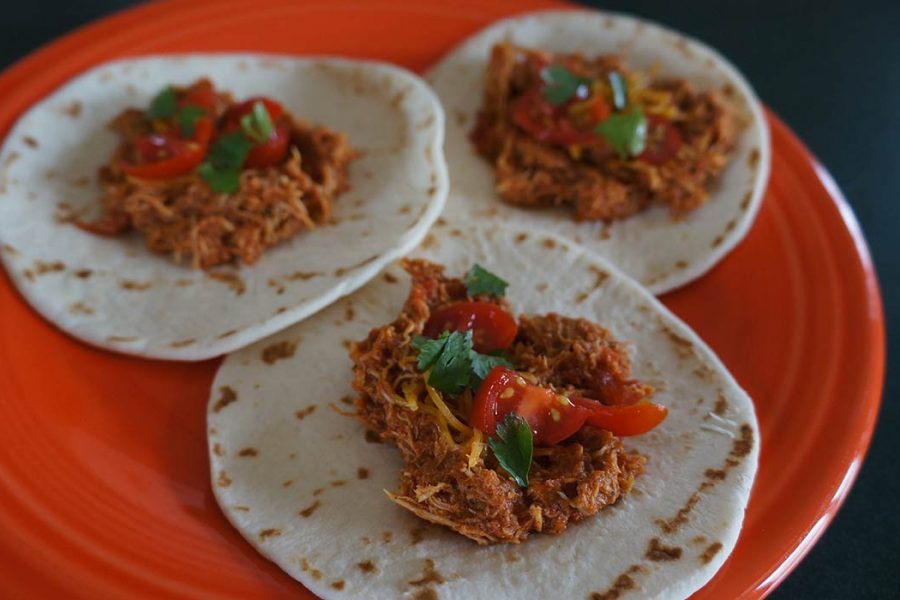 These chicken tacos are easy to make (10 minutes of prep time and four hours in the slow cooker is all you need), but they look and taste like you spent all day in the kitchen. The leftovers are delicious the next day too.
Ingredients
2 pounds trimmed, skinless chicken tenderloins
1 medium white or yellow onion
¾ cup beer (a refreshing, Mexican-style lager works well)
2 tablespoons chili powder
1 tablespoon cumin
1 tablespoon garlic powder
(2) 10-ounce cans of diced tomatoes with green chilies
14.5-ounce can of diced tomatoes
(2) 6-ounce cans of tomato paste
Limes or lime juice to taste
---
Directions
Place chicken in the slow cooker.
Peel and dice the onion, then add it to the slow cooker
Pour the beer into a vessel and stir in chili powder, cumin and garlic powder.
Cover chicken and onion mixture with beer and spice mix.
Drain tomato and chili mixture slightly before adding to the slow cooker.
Open and lightly drain excess liquid from the tomatoes. Add them to the slow cooker. (Some liquid is fine.)
Stir so that everything in the pot is evenly covered by liquid.
Cook on high for four hours or low for eight hours, stirring about halfway through. Shred the chicken with a fork 30 minutes before serving.
Add two cans of tomato paste and stir well.
Continue to cook on low so that the chicken can absorb tomato paste and additional juices.