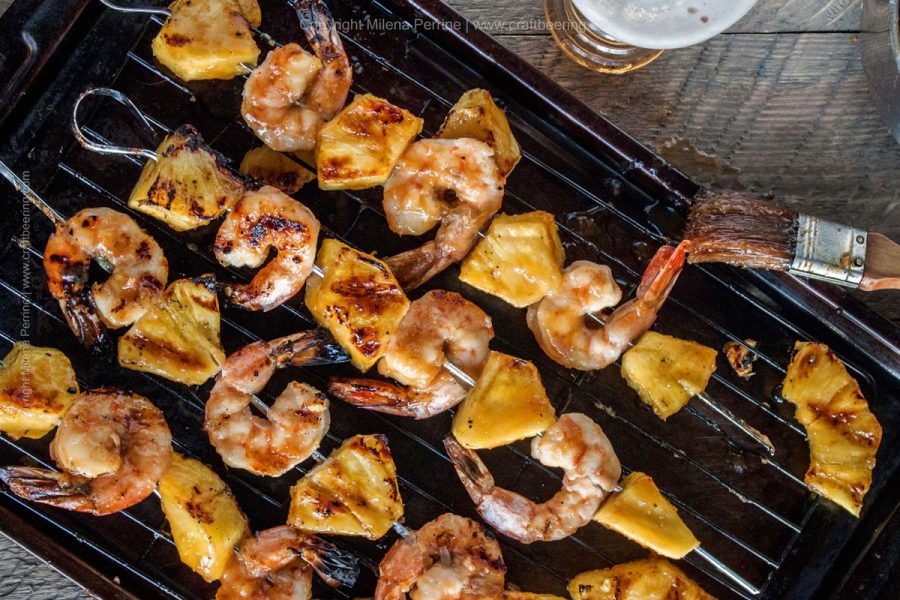 IPA pineapple teriyaki is a fragrant, flavor-loaded sauce with versatile end uses. In this dish from Chef Chris Perrine, it is applied as a glaze over shrimp and fresh pineapple skewers. The same sauce can serve as a dip for grilled veggies, can be drizzled over seared fish & rice bowls or used as a marinade for pork, beef or chicken. The specific flavor profile of the IPA is to the discretion of the recipe preparer.
Ingredients
6 oz pineapple juice
1 tsp finely grated ginger root
3-4 tbsp dark brown sugar
4 tbsp soy sauce
6 oz IPA
2 tbsp cold water combined with 1 tbsp cornstarch for a thickening slurry
2 lbs uncooked shrimp, tail on, peeled and deveined
½ fresh pineapple, peeled, core removed, flesh cut into 2 inch cubes
---
Directions
To prepare the IPA pineapple teriyaki start by bringing the pineapple juice to simmer in a small saucepan over medium-high heat.
Add the grated ginger and continue to simmer for 2-3 minutes.
Next stir in the dark brown sugar, soy sauce and the IPA of your choice.
Let simmer for another 5 minutes.
Turn off the heat and stir in the slurry to thicken the teriyaki. Set the saucepan aside to cool off the sauce. Transfer to a suitable storage container with an airtight lid once completely cooled off. (The sauce can be stored safely in the refrigerator for up to 2 weeks.)
Meanwhile, make the skewers (alternate shrimp and pineapple pieces) and heat the grill.
Brush the IPA pineapple teriyaki over the skewers and grill for about 2 minutes on each side. Once the shrimp are cooked through, transfer the skewers to a platter and brush one more time with the sauce.