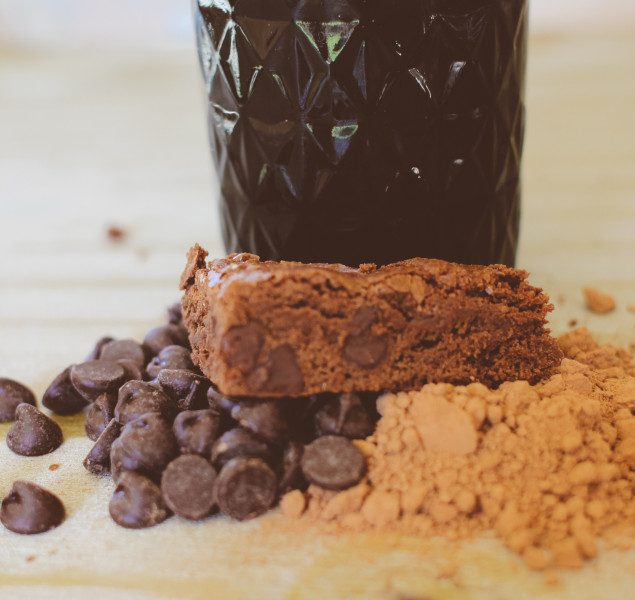 Leche Mol&eacute, a mocha Mexican milk stout brewed with vanilla beans, cocoa nibs, coffee and Ancho chilies is the perfect addition to these rich brownies made with cinnamon and cayenne.
Ingredients
The mocha Mexican milk stout is brewed with vanilla beans, cocoa nibs, coffee and Ancho chillies to give it that beautiful essence of a mole sauce with a milk stout combined in a velvety and complex beer. I was chatting with Brandon Buckner of Bottle Logic at the tasting room and he mentioned that the Leche Mole beer would be amazing in brownies. I haven't made brownies in a while -- challenge accepted!
1 1/2 cups or 3 sticks of unsalted butter, melted
3 3/8 cups or 1 pound of sugar
2 cups of dutch-processed cocoa powder
1 1/2 tsp of salt
1 1/2 tsp of baking powder
1 1/2 tsp of vanilla extract
5 large eggs
2 1/2 cups all-purpose flour
1 1/2 cups chocolate chips
3/4 cups of Leche Molé beer or other milk stout
1 Tbsp of cinnamon
1 tsp of cayenne
1 tsp of ground nutmeg
1/2 tsp of ground ginger
---
Directions
Preheat the oven to 350°F. Spray or grease a quarter sheet pan (large cookie sheet with the 1-inch lip around the edges) and set aside.
Melt the butter in the microwave until completely melted, add the sugar and whisk together then return to the microwave until it's hot (110-120°F) but not bubbling and whisk again. This should make the mixture look shiny and that's what helps the brownies get a fudgy texture and a shiny-yet-crunchy top.
Let cool slightly then add in the vanilla, eggs, milk stout and cocoa powder to the butter mixture and set aside.
In a separate large bowl, whisk together the flour, cinnamon, cayenne, nutmeg, ginger, baking powder and salt together.
Add the butter mixture and mix until incorporated. Fold in the chocolate chips then pour into the prepared sheet pan.
Cook for 30 minutes, in the middle of the oven, rotating once during cooking. Make sure the top is cracked and you can smell the brownies. The edges should start to pull a bit away from the corners.
Let cool completely before cutting because these brownies are super fudgy and not the most sturdy until cool.
These brownies are so tasty. They were a big hit at Bottle Logic and at the office. People loved the spicy kick and the rich complex flavor profile. These were such a big hit, I might just have a new go-to brownie recipe!