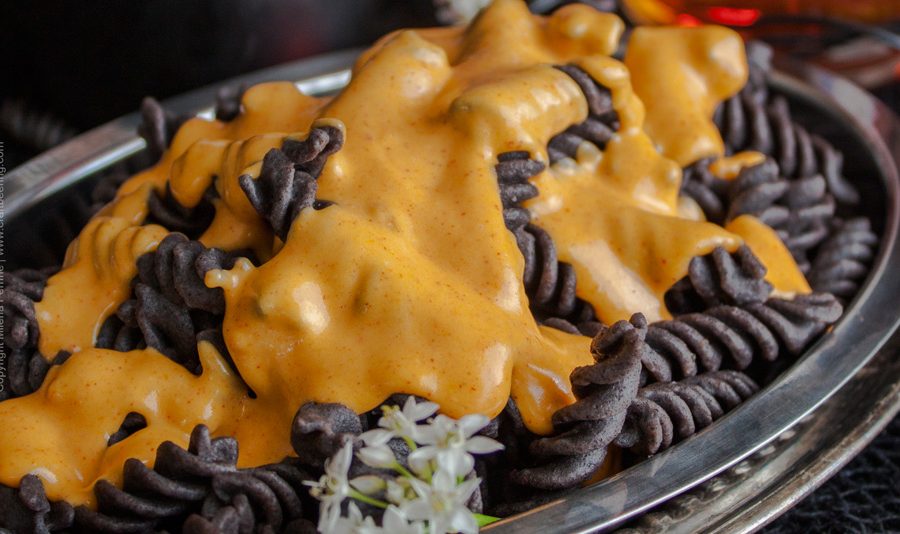 This pumpkin ale mac and cheese is both visually impactful (think Halloween) and rich in flavor. Sharp cheddar cheese is blended with fragrant pumpkin ale and color enhanced with smoked paprika and turmeric. The macaroni part is played by organic black bean flour rotini (feel free to substitute with an alternative black colored pasta).
Ingredients
3 cups shredded sharp cheddar cheese
1 12 oz pumpkin ale
¼ cup + 2 tbsp flour
¼ cup unsalted butter (the equivalent of half a stick)
turmeric (a couple of pinches, to taste)
smoked paprika (a couple of pinches, to taste)
salt and pepper, to taste
12 oz black bean rotini (or another black colored macaroni)
1 tbsp olive oil
---
Directions
Shred the block of cheddar cheese while still cold, coat it with the ¼ cup of flour and set aside.
Alternatively, if your cheddar was pre-shredded, measure out 3 cups, coat with flour and set aside.
Add a pinch of salt to 4 quarts of water and bring it to a rolling boil. Add the black bean rotini (or alternative black colored macaroni).
Cook for 7-8 mins. Drain the macaroni and return it to the pot. Coat with the olive oil. Serve in desired dish.
While the pasta is cooking melt the butter in a saucepan over medium heat.
Once the butter is melted, add the 2 tbsp of flour, the smoked paprika and the turmeric and gently stir to make a roux. The spices will lend a beautiful orange color. Adjust color tone as per your liking by adding an extra pinch of either paprika or turmeric.
While continuing to stir the roux, gently add the pumpkin ale.
Once the ale is incorporated remove the saucepan from the heat.
Working in batches slowly add the flour coated shredded sharp cheddar. Stir it in gently as it melts.
Taste and season with salt and pepper.
Immediately transfer the pumpkin ale cheese sauce to a small serving dish and serve it beside the olive oil coated macaroni.
Drizzle the sauce over the macaroni tableside for visual impact.