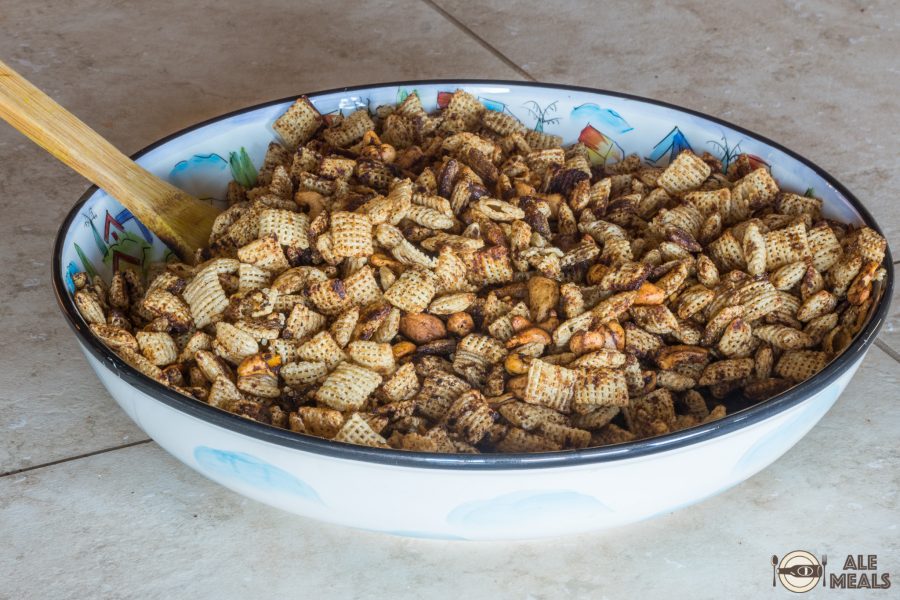 We're still on the Sriracha train, this time with a twist on the class Chex Mix—a Sriracha Stout Chex Mix. The stout is reduced to thick syrup, and butter and Sriracha is added to that syrup. This blended with cashews, Thai green curry, and the Rice Chex.
Ingredients
1 cup stout
3 Tbsp Sriracha
6 cups Rice Chex
1 cup roasted cashews
6 Tbsp butter
2 Tbsp Worcestershire sauce
2 Tbsp Thai green curry
1 Tbsp garlic powder
---
Directions
To make this Sriracha stout chex mix, reduce stout in a sauce pan over low heat until it resembles a thick syrup.
Melt butter into the stout syrup.
Add Sriracha and stir to incorporate.
Remove from heat and add Worcestershire sauce.
Heat oven to 250°F.
Mix Chex, cashews, Thai green curry and garlic powder.
Pour liquid over the dry ingredients and mix thoroughly.
Lay into baking sheets.
Bake 1 hour, stirring every 15 minutes.