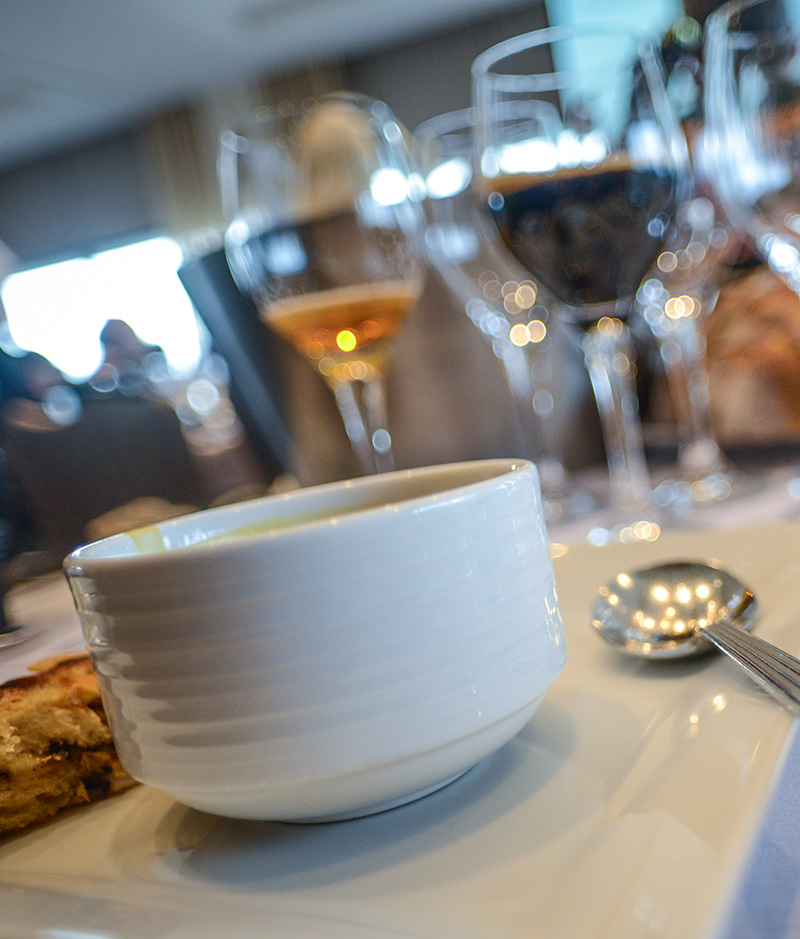 Cook with Beer! Top Recipes of 2013
A new year means New Year's resolutions, and this time I'm not kidding myself with a crazy workout plan or giving up caffeine—let's be realistic people! I'm keeping things simple by making a goal to cook three homemade meals a week. That doesn't sound to hard, right? I'm not lost in the kitchen, but could definitely stand to experiment and branch out a bit from the same old boring recipes. And what can spice up the kitchen more than to cook with beer?
If you're visiting this site, you're probably a pretty big fan of beer. It's our hope to show you that craft beer is an amazingly versatile ingredient in the kitchen—we have a whole recipe section devoted to it. I put together this list of the most popular recipes from the past year to give you a little inspiration in the kitchen. What you'll notice from this list is that craft beer has its place in every recipe category, from the usual suspects like sauces and brines, to the more adventurous like doughnuts and mac n' cheese.
Don't forget to find CraftBeer.com on Pinterest for more recipe ideas and inspiration.
Cheers to cooking with craft beer in 2014!
---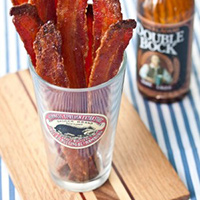 Beer-Candied Bacon by Laura @ Tide & Thyme
Beer and bacon, there's not much that could go wrong here! The sugary sweetness of the brown sugar glaze is just the right contrast to the hearty bacon.
---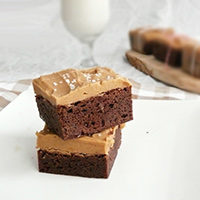 Sea-Salted Peanut Butter Brownie Bars by CookingAndBeer.com Chocolate and stout is a classic combo, but these brownies from Cooking & Beer go one step further with a creamy peanut butter frosting. The brilliant addition of a bit of sea salt makes the sweet flavors pop!
---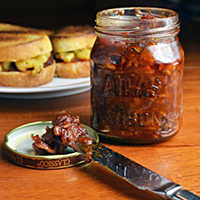 Grilled Mac n' Beer Cheese Sliders with Bacon, Beer & Tomato Jam by Morgan at Host the Toast Forget the cellophane-wrapped yellow squares, this grilled cheese uses mac n' cheese for its gooey filling. Not to mention it's topped with a bacon, beer and tomato jam, which adds slaty sweetness to this delicious sandwich.
---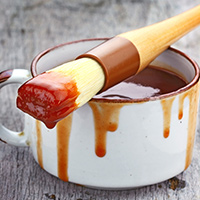 Simple Beer BBQ Sauce by Steve Denney This easy recipe is a great place to start for those of you who might be more comfortable outside on the grill, plus who doesn't love BBQ?
---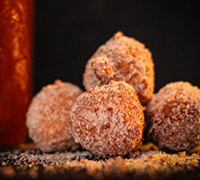 Beer Doughnut Balls by Beer and Baking Beer and Baking's Jessica Rice used Palmero, a Belgian dubbel from Hangar 24 Craft Brewery to add flavors of dates, rum, spice, caramel and raisins to these perfect doughnut holes.
---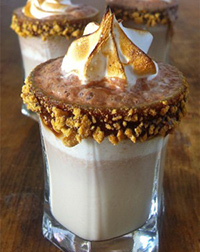 Chocolate Stout S'More Shakes by Someone Left the Cake Out In the Rain This dessert is everything you love about a s'more combined into a shake made with your favorite chocolate stout. These s'more shakes absolutely need to make an appearance at your next dinner party! Hint, this recipe for marshmallow makes a ton, and is delicious de-fluffed on ice cream, pretzels, or other sweet treats.
---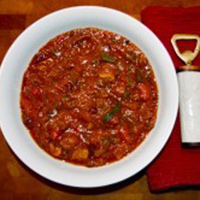 Black Stout Chili by Drew Long Beer is a great ingredient for chili, as the malty flavors complement the heat from the peppers and savoriness of the meat. For this recipe, Drew Long used Lagunitas Brewing's Cappuccino Stout, which also adds hints of coffee to the hearty chili.
---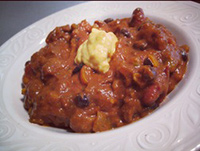 Pumpkin Ale Chili by AlesKitchen This chili, made with pork shoulder and plenty of heat from poblano, serrano and chipotle peppers, pairs perfectly with your favorite porter. A dollop of pumpkin yogurt adds a bit of sweet and emphasizes the pumpkin flavors of the dish.
---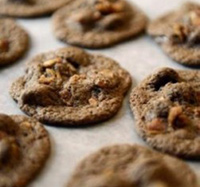 Chocolate Chip Cookies with Bacon, Beer and Cayenne by Lauren Wiersma Lauren Wiersma, production team member at Left Hand Brewing Company, created the perfect combination of sweet, salty and spicy with these chocolate chip cookies made with Left Hand's Milk Stout.
---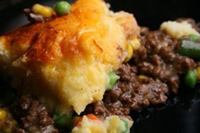 Dry Stout Shepherd's Pie by CraftBeer.com Dry stout serves as the backbone for this one pot wonder from The Hungry Housewife. This recipe uses beef, but you could try lamb, chicken or pork, depending what's available.
CraftBeer.com is fully dedicated to small and independent U.S. breweries. We are published by the Brewers Association, the not-for-profit trade group dedicated to promoting and protecting America's small and independent craft brewers. Stories and opinions shared on CraftBeer.com do not imply endorsement by or positions taken by the Brewers Association or its members.