A multi-limbed green god—part ibex, part insect—presides over a pool of beer atop a cliff, pouring the golden liquid into a drinking horn held on the shoulders of a satyr, where it overflows into a boiling cauldron on the shore of a river. A dryad with tree limbs growing from her abdomen plucks hops from the beard of a spectral moose. Voyagers embark onto the river in small boats from the moose's back, rounding the cliff upon which the green god's vat of beer rests. Do these tiny, faceless forms understand the cosmic machinations that have brought them this drink of the gods?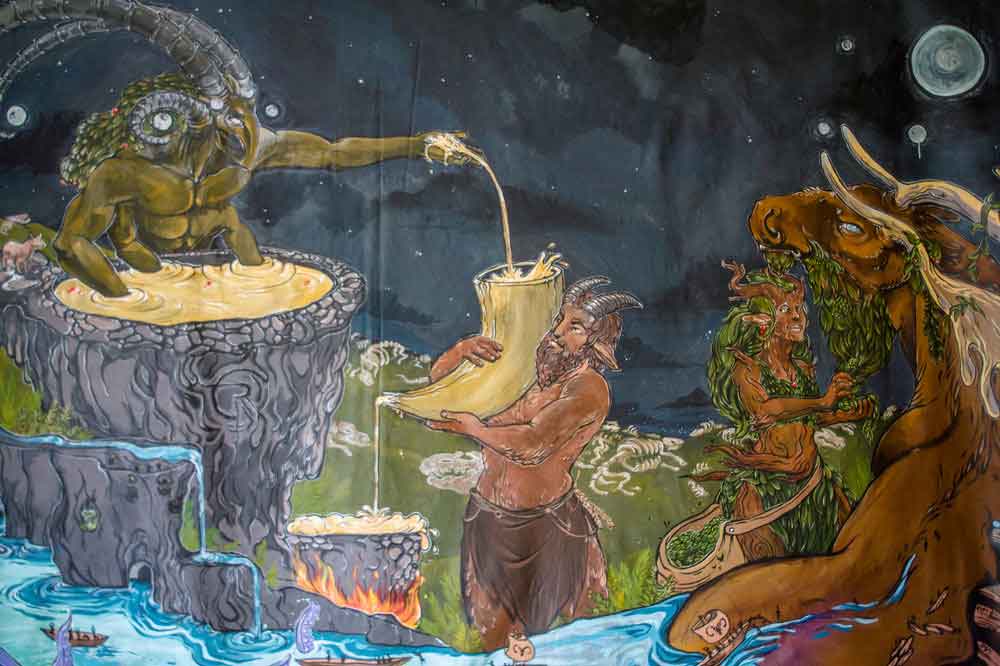 The scene is depicted on a 9-foot by 16-foot mural hanging over the bar at Rabid Brewing in Homewood, Illinois, a southern suburb of Chicago. Hand-painted by artist Annabelle Popa, the mural's merging of mythologies both historical and invented perfectly captures the aesthetic both of Rabid and its founders, husband and wife team Tobias Cichon and Raiye Rosado. This oddly seamless blend of wonder and irreverence was displayed also in the pair's late October nuptials several years ago.
"We had a backyard wedding in costumes," chuckles Rosado. "My groom had horns and goat-skin chaps."
The pair first discussed opening a brewery while on their honeymoon, and on October 2017, Rabid Brewing became the first craft brewery in Homewood. Their small taproom features chalkboard walls to encourage visitors to add their own tidbit to Rabid Brewing's evolving mythology.
(Related: Stories Behind 10 Strange Beer Names)
That mythology isn't confined to the taproom art. Cichon is currently writing a fantastical backstory for the brewery to market Rabid's beers. The brewery primarily focuses on big, juicy IPAs and burly but graceful stouts. The liquid offerings get in on the imaginative fun with names like Dwarves of Doom, Lilliputian Warfare, and Shadowstepper.
'We're going back to the liquor store'
While Cichon handles most of the brewing, it was actually Rosado who got him into good beer in the first place.
"When Raiye and I first got together, I brought home a 12 pack of [a macro brew] and she looked at me with the most distraught face and said, 'No, put that down, we're going back to the liquor store,'" Cichon says, laughing. "We went back and purchased a few different beers. She taught me how to appreciate it."
While the story shouldn't sound remarkable, the pair are both amused and aggravated that it catches so many male craft beer fans off-guard. The story has helped open some minds, but Rosado says she's continually frustrated when she encounters people with lingering attitudes against women in beer.
"She taught me how to appreciate it." Tobias Cichon, Rabid Brewing
(Find: A US Brewery Near You)
"It doesn't matter sometimes what is between my ears," she says. "It's hurtful. It's hard."
Rosado appreciates the camaraderie of meeting and working with other women in the industry.
"Getting involved with the Pinks Boots Society has helped," she says. "That's been phenomenal. Just the friendship with the other women to say, 'Sometimes, this sucks.'"
Rosado does some brewing at Rabid, and she brings in women from the community to help out with these periodic "Bitches Brews." She says most of these women have never brewed before, and the ownership they display over the finished product is exciting.
"They can be sitting in the taproom next to someone who orders the beer, and they'll say, 'I helped make that beer, that's my beer.'"
Rosado hopes eventually to brew beers that include ingredients from her Puerto Rican culinary heritage as well.
Feast of the Goat Queen: Beer and Rebirth
Every May, Rabid hosts the Feast of the Goat Queen, a beer release party that is intended to be the antithesis to bro-centric beer fests.
"It's kind of a fertility festival, a celebration of life and rebirth," explains Rosado. "We have a goat queen in costume and she has a court of goat princesses."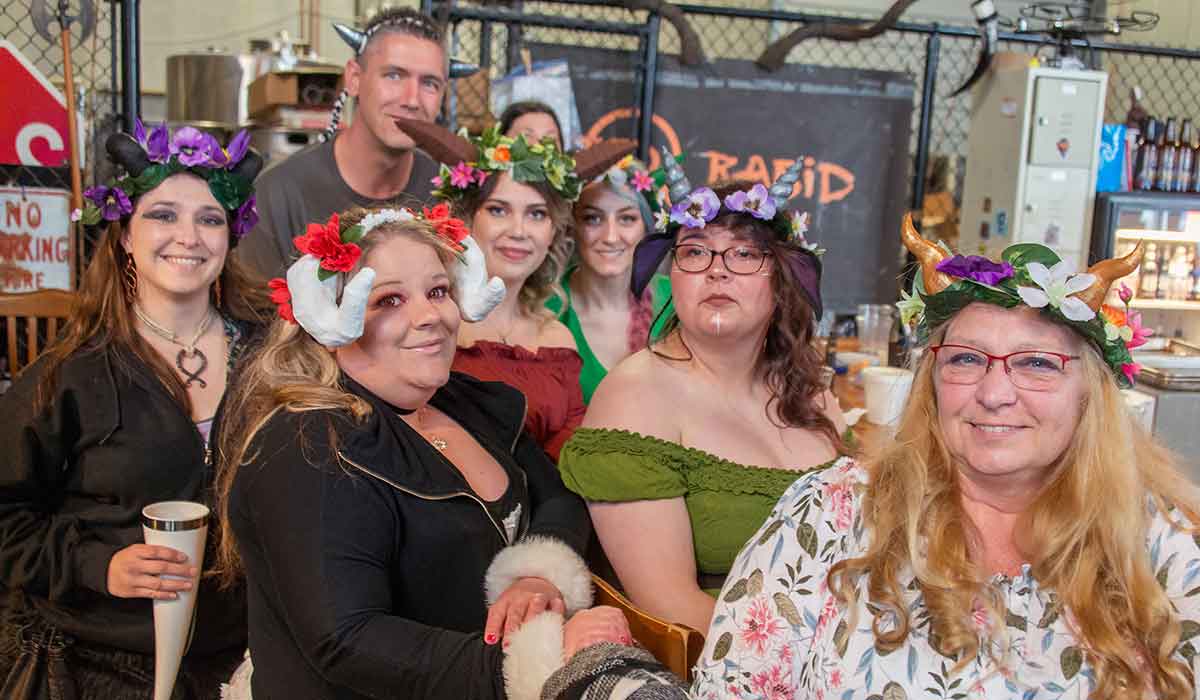 The family-friendly festival includes live baby goats, fire dancers, hoopers, and live music.
(Related: Tales from an Old Army Fort: Oozlefinch Brewing Rises Off Virginia's Coast)
Both Cichon and Rosado are artists, and they host a weekly open mic night that encourages folks of all talent levels to bravely share their work.
"Yes, some really polished acts show up, but I treasure it because it's a workshop night. You get applause for being great, and you get applause for being not so great but for making that attempt," reflects Rosado. Both she and Cichon participate on these nights. "You're here to be part of the story."
Rabid Brewing as the Community's Living Room
Diversity and inclusion are central to Rabid's philosophy as a business.
"A lot of people meet here who wouldn't meet any other way," says Rosado. "There's a broad range of faces on any given night, and they're all hanging out together. Men, women, different ages, different colors, different belief systems. Sometimes they can't agree on a whole lot, but they agree they like this beer and they like this place."
"I've had evenings when I'm behind the bar and it's me and 10 women," says Cichon. "That's a neat thing to see."
(Travel: Beercationing in Michigan? Don't Overlook Detroit)
Rabid Brewing's bar top and tables were reclaimed from long-gone neighborhood bars in Homewood, and a given Saturday finds an eclectic but warm mix of people filling those seats. Some are there for Sumo Saturdays, when grand sumo matches are projected onto the brewery walls. Some are there to laugh with the small tribe of friends they've curated in the welcoming taproom. All are there to enjoy Rabid's bold but accessible beers.
Step inside, grab a piece of chalk, and write yourself into the Rabid Brewing story.
CraftBeer.com is fully dedicated to small and independent U.S. breweries. We are published by the Brewers Association, the not-for-profit trade group dedicated to promoting and protecting America's small and independent craft brewers. Stories and opinions shared on CraftBeer.com do not imply endorsement by or positions taken by the Brewers Association or its members.