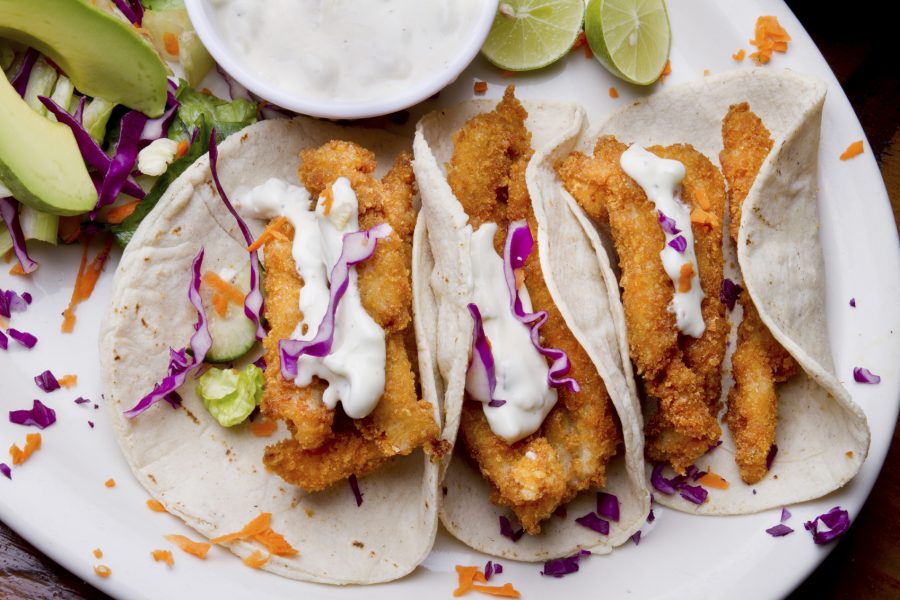 Randy Clemens, author of the The Veggie Lovers Sriracha Cookbook, shares this recipe for amber ale-battered fried avocado tacos with Sriracha curtido.
Ingredients
Curtido
1/2 head green cabbage, shredded (about 4 cups)
1 small red onion, halved lengthwise and thinly sliced
1 large carrot, grated
1/2 cup water
1/2 cup apple cider vinegar
1/4 cup Sriracha
2 tsp dried Mexican oregano
2 tsp sugar
2 tsp fine sea salt
Beer-Battered Fried Avocados
2 cups strong amber ale (such as Arrogant Bastard Ale or Lagunitas Brown Shugga')
2 cups all-purpose flour
2 Tbsp garlic powder
2 tsp baking powder
2 tsp fine sea salt
1 tsp freshly ground black pepper
2 cups panko bread crumbs
2 large, ripe Hass avocados
Extra-virgin olive oil or vegetable oil, for frying
8 or 16 small corn tortillas, warmed
Fresh cilantro leaves, for garnish
---
Directions
Curtido

Boil about four cups of water. Put the cabbage, onion and carrot in a large mixing bowl and toss to combine. Pour in the boiling water and let stand for five minutes. Drain well.
In a small saucepan, combine the half cup water, vinegar, Sriracha, oregano, sugar and salt. Bring to a boil over high heat. Remove from the heat and stir to ensure that the sugar and salt have dissolved. Pour over the drained cabbage mixture and toss to combine.
Let cool to room temperature, then cover and refrigerate until ready to use. (This can be made up to one week in advance and gets better after sitting for a day or two.)

Fried Avocados

Put the amber ale, flour, garlic powder, baking powder, salt and pepper in a bowl and whisk to combine. Prepare a deep fryer by filling it with oil to the manufacturer's suggested fill level. (Alternatively, use a wide, deep cast-iron or other heavy pan with oil to a depth of 2-3 inches, but no more than halfway up the side of the pan.) Heat the oil to 375°F.
Spread the panko in a shallow baking dish. Cut the avocados in half, remove the pit, and scoop out the flesh, keeping it intact. Slice each half into four pieces.
Dunk the slices into the amber ale mixture, shake off any excess, and then roll each piece in the panko.
Carefully lower into the oil and fry until deep golden brown and crispy, 3-5 minutes. Remove with a slotted spoon and immediately season lightly with salt and pepper.
Now assemble the tacos. I like to stack two tortillas per taco, but you're welcome to use only one if that's your preference. Either way, top with two hot avocado slices.
Using tongs, lift a big mound of the curtido from its pickling bath, give it a quick shake to ditch some of the liquid, and pile it atop the avocado. Garnish with cilantro and serve immediately.