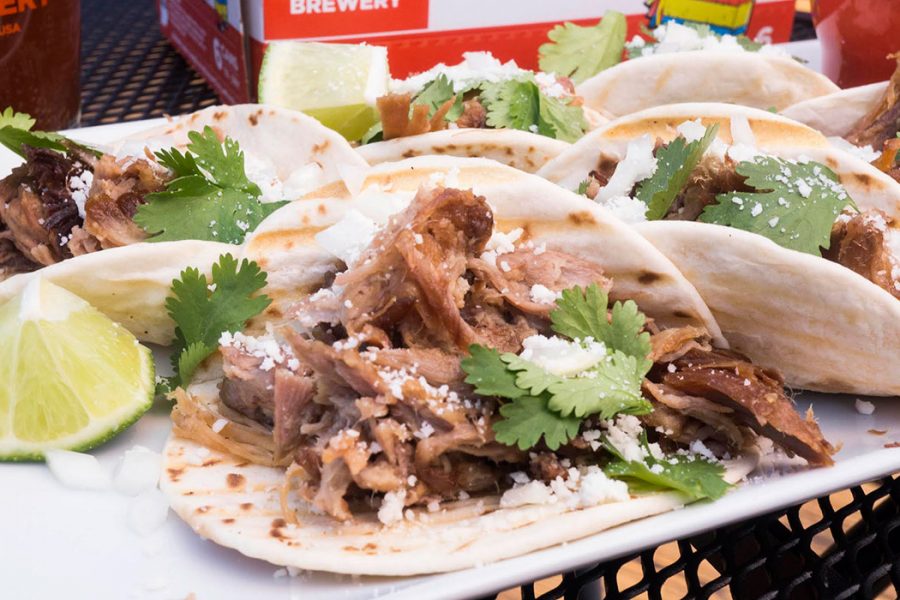 Sun King Brewing uses its Pachanga Mexican-style Lager in this carnitas tacos recipe. It's so good, you won't want to reserve it for Taco Tuesday — you'll want it every night of the week.
Ingredients
Pork
4 pounds skinless, boneless pork shoulder (Boston butt), cut into 2" pieces
24 oz Pachanga Mexican-Style Lager
4 teaspoons kosher salt
Tortillas for serving
Cilantro and chopped sweet onion for garnish
Cotija cheese for garnish
Pineapple Hot Sauce
1 pineapple, skin and core removed
4 habaneros, leave the seeds in or out depending on how spicy you like things
½ medium onion
4 cloves garlic
1 lime, zested and juiced
1 teaspoon sea salt
½ cup apple cider vinegar
½ cup Pachanga
1 teaspoon sea salt
1 tablespoon pure raw honey or sweetener of choice
---
Directions
For Pork

Bring pork, beer, garlic, salt, and 1 cup water to a boil in large pot. Reduce heat, cover, and simmer, stirring occasionally, until pork is fork-tender, 60-80 minutes. Uncover pork; simmer until liquid evaporates and pork begins to brown, 20-25 minutes. Continue to cook, stirring frequently and scraping bottom of pot until pork is shredded and browned, 10-15 minutes.
Add 1 cup water to pork; cook, scraping up browned bits from bottom of pot, for about one minute.
Do Ahead: Carnitas can be made three days ahead. Let cool. Cover and chill. Reheat with 1/2 cup water in a covered pot, adding more water if needed to keep pork moist. Serve on warmed tortillas with peach hot sauce, cilantro, onions and cotija cheese.

For Pineapple Hot Sauce

Combine all the ingredients together in a high-powered blender or food processor and process until the sauce is completely smooth.
Once smooth, place the mixture in a pot on the stove over medium heat. Bring to a simmer and simmer for 20 minutes, stirring occasionally. Remove from heat, let cool and then store in the fridge.

Discover More

Sun King Brewing has lots of fun cooking with Pachanga, its Mexican-style lager. Check out their website more ways you can turn the beer into an awesome recipe.