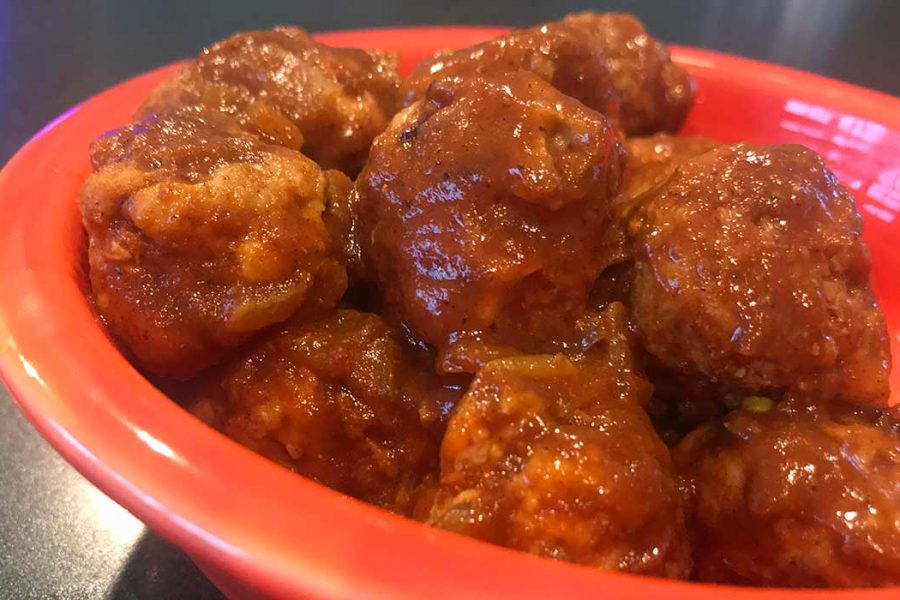 This fresh take on a classic dish combines a complex, fragrant sauce and savory chicken meatballs. As an added bonus, you only need to use one skillet, so clean up is a snap. Serve the meatballs as an appetizer or with basmati rice as a main dish.
Ingredients
1 large yellow onion, chopped
6 cloves of garlic, minced
¼ cup oil, plus an additional 2 tablespoons to prevent sticking
2 pounds ground chicken
3 tablespoons ground ginger
1 14.5-oz can diced tomatoes, drained
4 tablespoons tomato paste
12-oz. Helles lager
1 cup chicken broth
3 tablespoons curry powder
1 tablespoon garam masala
1/8 teaspoon chili powder
½ teaspoon ground red pepper
3 tablespoons brown sugar
4 cups cooked basmati rice, if serving as an entree
---
Directions
Chop the onion and mince the garlic.
Add 1 tablespoon of oil to the skillet and heat to medium-high.
Fry the chopped onion until translucent and tender, about 5 to 7 minutes.
Add minced garlic and fry for about 30 seconds.
Transfer ¼ cup of the chopped onion and minced garlic mixture into a large mixing bowl.
Place the remaining garlic and onion mixture in a second bowl.
Meatballs:
Add 2 tablespoons of ground ginger to the large mixing bowl, on top of the ¼ cup onion and garlic mixture.
Stir.
Add ground chicken to the large mixing bowl.
Combine thoroughly with your hands, being careful not to over-handle.
Lightly form loose meatballs about the size of ping pong balls. (Don't pack the meatballs too tightly, or they'll be tough.)
Add ¼ cup oil to the skillet and heat to medium.
Add the meatballs in batches, cooking until browned all over, about 15 minutes.
Turn meatballs frequently as they cook. Add a bit more oil if the meatballs stick.
Cover a plate with a paper towel and set meatballs on it to cool.
Sauce:
Return skillet to stovetop.
Add 1 tablespoon oil and heat to medium.
Put the onion and garlic mixture from the second mixing bowl into the skillet.
Add tomatoes and tomato paste.
Stir, scraping the browned bits of meatballs, garlic and onion from the bottom of the skillet.
Add curry power, garam masala, chili powder, red pepper, brown sugar and the remaining 1 tablespoon of ground ginger.
Mix until chopped ingredients are coated.
Add beer and chicken broth.
Cover, reduce heat and simmer for 15 minutes or until the sauce thickens, stirring occasionally.
If serving as a main dish, make the rice while the sauce cooks.
Add meatballs and stir until covered with sauce.
Reduce heat and continue to simmer on low to warm the meatballs.
Serve over rice, or alone as an appetizer.