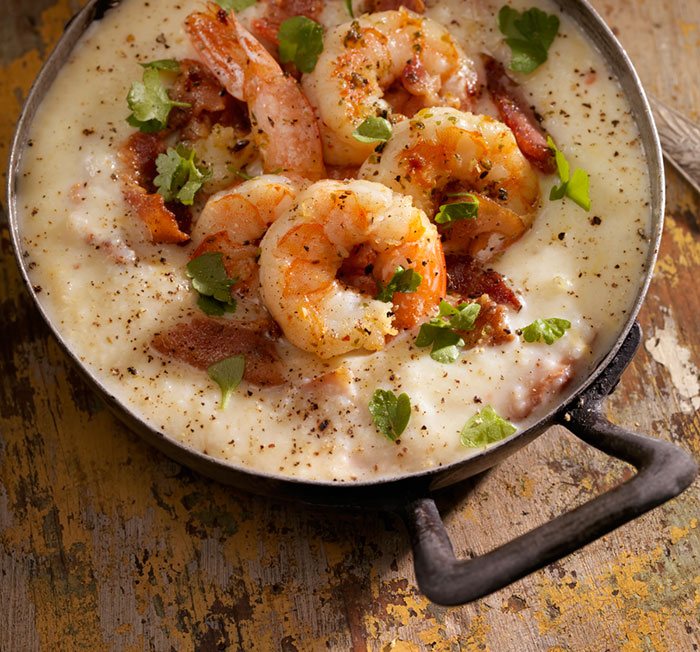 Jalapeno pale ale adds an extra spice kick and much needed brightness to this recipe for low country shrimp and grits.
Ingredients
4 cups chicken stock
1 cup stone-ground grits (not instant)
1/2 cup heavy cream
2 cups cheddar cheese, grated
6 oz of bacon, chopped into quarter inch pieces
1 bell pepper, diced
8 oz of baby bella mushrooms, sliced
1 jalapeno, diced
1 medium onion, diced
2 garlic cloves, diced
2 pounds of shrimp, peeled and deveined
1/2 cup of jalapeño pale ale (or other pepper beer)
1/2 cup of mushroom stock
---
Directions
My Southern friends call my shrimp and grits the best they've ever eaten. The secret? Cheddar grits topped with a mountain of spicy, earthy shrimp and mushroom studded sauce. Of course, the jalapeno pale ale helps the dish shine by adding an extra spice kick and much needed brightness.
Bring the chicken stock to a boil in a large saucepan. Whisk in the grits and simmer, stirring frequently for 20 minutes or until the stock is absorbed and the grits are cooked through. Remove from heat and stir in the cheese and cream.
Fry the bacon in a large skillet until browned. Remove the bacon from the pan.
Add the vegetables to the bacon grease and cook until translucent. Add the shrimp and cook until pink, which is about 2 minutes.
Pour in the beer and mushroom stock. Bring to a simmer and reduce for 5 minutes.
To serve, ladle the grits into individual bowls and top with shrimp mixture.