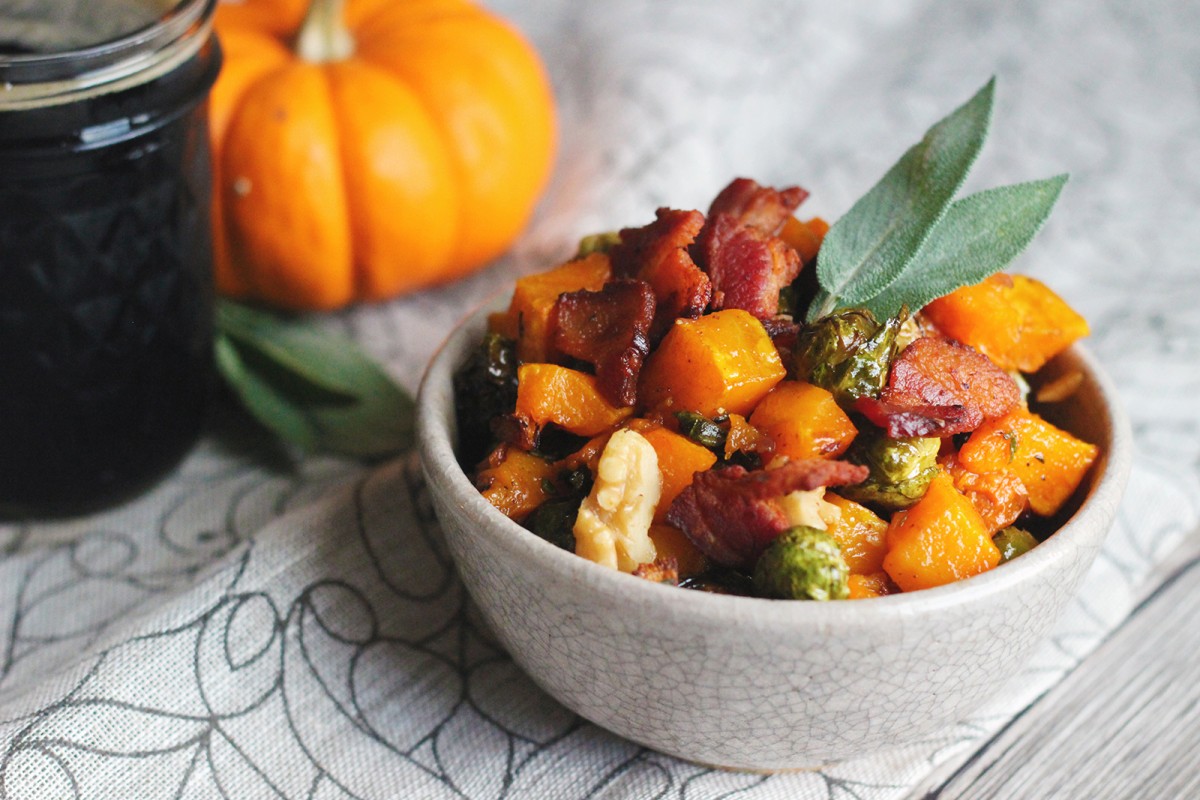 Recipe for roasted butternut squash and Brussels sprouts tossed in a bacon and brown ale vinaigrette with sage and pecans - the perfect autumn side dish!
Ingredients
1 pound Brussels sprouts, trimmed and quartered
1 small butternut squash, peeled, seeded and cut into 1/2-inch dice
3 Tbsp olive oil
1/4 tsp cayenne pepper (optional)
1/2 tsp freshly grated nutmeg
1 tsp fresh thyme, chopped
4 thick slices of smoked bacon, cut crosswise into 1/4-inch pieces
1 Tbsp finely chopped shallot
1 garlic clove, finely chopped
2 tsp apple cider vinegar
4 ounces english style brown ale or porter
1 Tbsp firmly packed light brown sugar
1 tsp Dijon mustard (optional)
1 tsp fresh sage, chopped
Kosher salt and freshly ground pepper, to taste
1/2 cup pecans or walnuts, roasted and chopped
---
Directions
Preheat oven to 400ºF. Toss Brussels sprouts and butternut squash with 3 tablespoons olive oil, cayenne, nutmeg, thyme, salt and pepper. Spread in an even layer on a baking sheet lined with foil or parchment paper; roast for 35 minutes, or until fork tender.
Meanwhile, cook bacon in a sauté pan over medium heat until brown and crispy, 8 to 10 minutes. Transfer to a plate lined with paper-towels.
Pour all but 1 tablespoon of rendered bacon fat into a small bowl and set aside. Add shallot to remaining fat in the pan; cook over medium heat, stirring occasionally, until soft, 2 to 3 minutes.
Add garlic and continue to cook until fragrant, 1 or 2 minutes more.
Add brown ale; simmer for 3 minutes. Whisk in vinegar, brown sugar, mustard and sage.
Pour 2 tablespoons of the reserved bacon fat in a steady stream while whisking continuously until vinaigrette emulsifies; season to taste with salt and freshly ground black pepper.
Transfer roasted vegetables to a large bowl.
Add enough vinaigrette to lightly coat (you may not need all of it), then stir in nuts and half of the bacon.
Transfer to a serving dish and top with remaining bacon; garnish with sage leaves and serve immediately.