Welcome to 2019, beer-drinking time traveler! IPAs aren't bitter anymore, lagers are cool again, and brewers add pretty much whatever they want to beer now. Chocolate, peanut butter, coconut, breakfast cereal, candy…If you liked it as a child, there's a beer now to remind you of it. It's a fun time to be alive!
One of the most popular ingredients for nostalgic, beer-y experimentation is peanut butter. Peanut butter has been a favorite in candy bars, cereals, desserts, and everyone's favorite lunchbox sandwich for decades, and it was popularized in craft beer with offerings like Willoughby Peanut Butter Cup Coffee Porter and DuClaw Sweet Baby Jesus, both of which were mentioned often when I polled Twitter about the best peanut butter beers for this article (if Twitter wasn't around in your era, it's where we all go to yell at each other in the shortest sentences possible).
We've talked about peanut butter beers here before, but there are constantly new and noteworthy examples popping up, so here are some of the best new(ish) peanut butter beers out there today.
Garage Brewing | Peanut Butter Chocolate 
"As many breweries know, these days we have to walk down the path of innovation and creativity on a daily basis," says Garage Brewing brewmaster Guy Bartmess. His brewery's Peanut Butter Chocolate is a milk stout that shines on the merits of the beer's two very popular title ingredients.
"We're not the first people to put these two flavors together by a long shot," he acknowledges. "Nonetheless, we've put a lot of work into balancing these two flavors. You can always create a beer that might be a curiosity to a customer. We wanted to create a beer that would be that go-to beer when people reach for a dark, rich, and decadent beer."
The 7.1% ABV stout represents a lot of work on the part of the Garage Brewing team to achieve a true peanut butter flavor.
"Without revealing any secrets, let's just say that it isn't made the easy way," says Bartmess.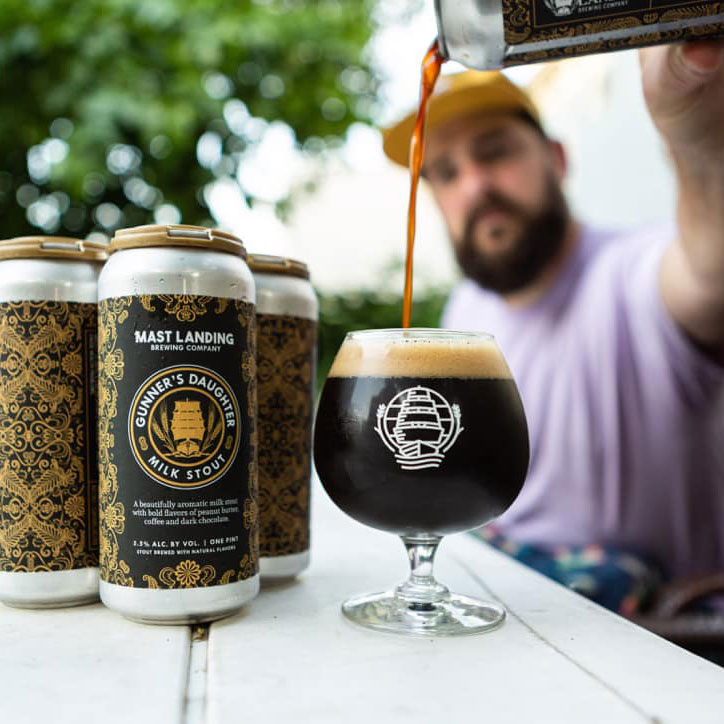 Mast Landing Brewery | Gunner's Daughter
Mast Landing Brewing in Maine employ a nautical theme for their beer names, and marketing director Parker Olen says the name of their best-selling beer, Gunner's Daughter Peanut Butter Milk Stout, has an ironic high seas origin.
"It derives from an old nautical punishment," he explains. "Something that used to be quite terrible is now something very pleasant and enjoyable."
The founders tasted a similar beer when they were still homebrewers and decided to recreate it at Mast Landing.
"We wanted to get as close to the flavors of a Reese's Peanut Butter Cup in beer form as possible," says Olen.
The brew was intended to be a one-time special release, but popular demand led to it being a year-round can offering. The brewery also releases a 10% ABV Imperial Gunner's Daughter during the colder months.
(READ: Peanut Butter Beers You'll Crave)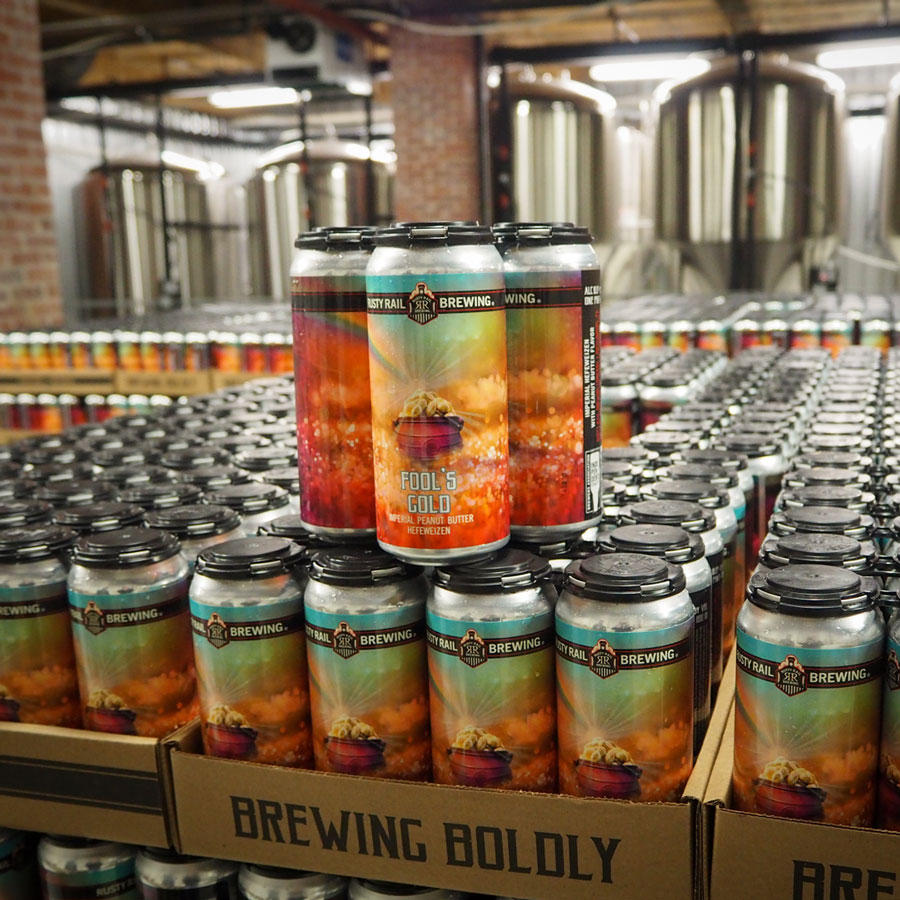 Rusty Rail Brewing | Fool's Gold
If you were expecting the largest brewpub in Pennsylvania to play it safe with their distribution beers, you were wrong. Rusty Rail Brewing's best-selling beer is a true weirdo, though a delicious one: an imperial peanut butter hefeweizen called Fool's Gold.
Brewery director Guy McCarty says the brew team wanted to brew a peanut butter beer but didn't want to brew the typical porter or stout. They decided to play on the flavor of a popular improvised childhood snack by combining the banana esters from Hefeweizen yeast with peanut butter.
"We knew it was a relatively out-there concept to do an imperial peanut butter hefe, so we released it draft-only as a one-off," says McCarty of the 8% ABV beer. "It shocked us how awesome the final product tasted."
(Recipe: Sea-Salted Peanut Butter Brownie Bars)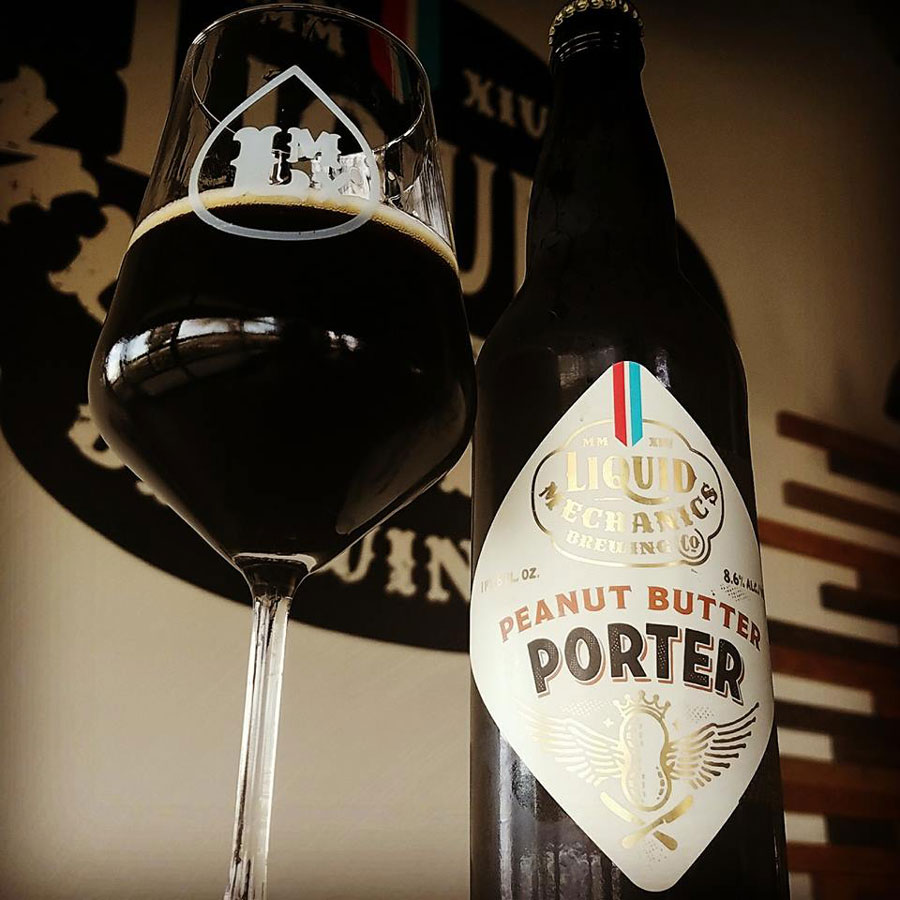 Liquid Mechanics | Peanut Butter Porter
Davin Heldin, "Captain of the Ship and Head Paper Filer" at Liquid Mechanics Brewing in Lafayette, Colorado, says his brewery doesn't just want to make a sweet peanut butter beer. That's why Liquid Mechanics Peanut Butter Porter is a beer first and a peanut butter beer second.
"Our goal is to create a beer that still tastes like beer, but with a hint of roasted peanut, not necessarily peanut butter," he explains. "Subtlety with this beer is important to us. We want the peanut flavor to enhance the experience of drinking an imperial porter, not have the flavor of an imperial porter enhance the experience of drinking peanut butter."
The beer came about as a collaboration with Justin's Nut Butter, an organic peanut butter company from Boulder, Colorado. It was originally sold as a Valentine's Day special release, but is now available year-round.
"We wanted the base for a peanut butter beer to have chocolate notes and mild roast," explains Heldin. "Chocolate so that we could get close to having it taste like a dark chocolate peanut butter cup without adding any actual chocolate, and mild roast so that the peanut flavor tasted more like peanuts than peanut butter."
Trillium Brewing | Peanut Butter PM Dawn
The peanut butter version of Trillium Brewing's beloved PM Dawn coffee imperial stout was originally brewed to celebrate the Boston brewery's 5th anniversary, but it has since returned as a small batch offering.
It's the coffee here that really makes this beer unique. Trillium adds slightly less of their signature cold brew Italian roast coffee from Barrington Coffee Roasters than they do in the standard version, and the resulting synergy between nuts and beans will perk up even the most jaded of stout drinkers. The silky brew evokes images of peanut butter chocolate milkshakes or peanut butter toast with coffee.
We won't even blame you if you have it with breakfast.
(More: Craft Beers for Margarita Lovers)
Mother Earth Brewing Co. | Sin Tax 
Kamron Khannakhjavani, director of marketing for Mother Earth Brewing Company in San Diego, gives credit where it's due when asked about the origin of his brewery's Sin Tax Imperial Peanut Butter Stout.
"The idea was spawned when fellow San Diego brewery Karl Strauss brewed a Peanut Butter Cup Porter," explains Khannakhjavani. "We cranked up the ABV and chose a similar, yet differentiated style in imperial stout that we were confident could stand up to so many big flavors."
In the collaborative spirit of independent craft brewing, the folks at Karl Strauss helped out with the big beer.
"Obviously respect for those that had produced something similar before us came into play when making the decision," says Khannakhjavani. "So we consulted Karl's co-founder Chris Cramer as well as their highly respected brewer Paul Segura and they provided tips on how to create a well-balanced offering. We adopted that to create a complementary yet different beer from theirs. Peanut butter has a distinct, rich flavor so we knew it had to be paired with something robust with enough viscosity and complexity to be complementary."
He also says Sin Tax is a great table companion for a classic PB & J sandwich (the brewery even does a fruited version of the beer periodically) or barbecued dishes.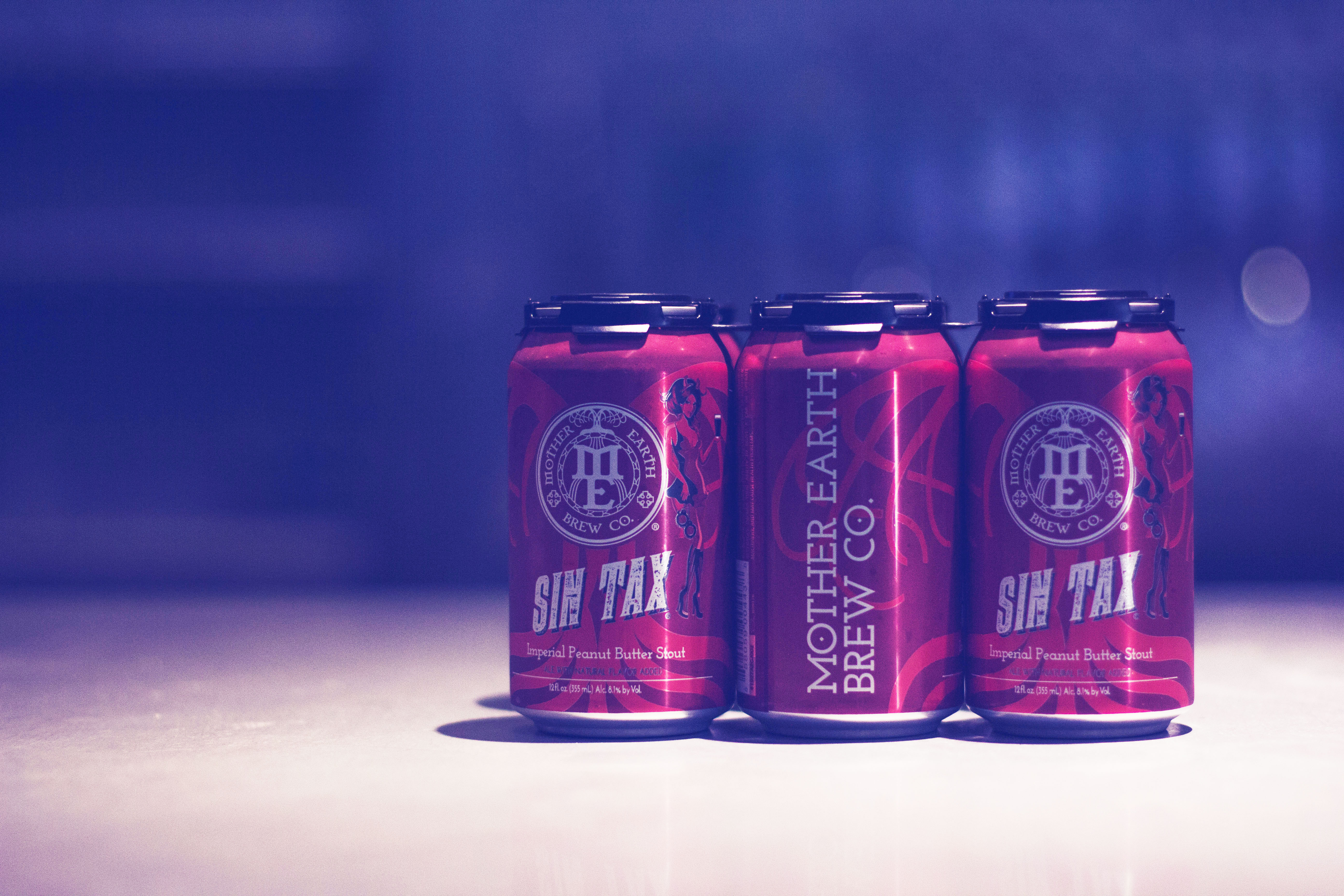 WeldWerks Brewing | Peanut Butter Medianoche
The highest ranked beer on Untappd from last year's Great American Beer Festival wasn't a hazy IPA or a barrel-aged sour. It was a peanut butter beer.
WeldWerks Brewing in Greeley, Colorado, is well-known for their line of Medianoche imperial stouts, and in 2018 they unveiled Peanut Butter Cup Medianoche. This decadent 13.1% ABV stout was first aged in Woodford Reserve Double Oaked and Breckenridge Distillery bourbon barrels, which were then blended together. Peanut flour was then added, as well as 15 lbs. per barrel of Reese's Peanut Butter Cups.
Medianoche releases are ultra rare and highly coveted, but if you have the chance, don't pass this one up!
Lakewood Brewing | Peanut Butter Temptress
When Lakewood Brewing of Garland, Texas, stopped making the peanut butter version of their popular 9.1% ABV Temptress milk stout last year, they heard about it from fans right away. According to Wim Bens, founder and president of Lakewood, the brewery received some spirited phone calls from fans after the peanut butter beer sold out.
"We actually had someone call the brewery and say, 'I heard you had a hard time making that beer. Figure it out!'" said Bens in a recent press release. They decided to make more this year, and used about a ton of peanuts to make it happen.
Temptress milk stout tangos with a lot of different fun ingredients in its Seduction line of variants, including mint, raspberry, and coconut, though peanut butter has seemed to be the most popular. Grab it before it's gone—we wouldn't want you to leave an angry call on poor Wim's voicemail.
(Graphic: Gold Medal IPAs 1989-2018)
Listermann Brewing | Nutcase
Listemann Brewing in Cincinnati, Ohio, is known for brewing unusual beers, including Chickow! imperial brown ale brewed with hazelnuts, but they're no strangers to peanut butter either.
"Peanut butter is one of those comforting flavors of American childhood, a time when things felt simpler, possibly magical, when the world was new to you," says Listermann head brewer Jared Lewinski. "All of those feelings were what we hoped to evoke when someone drank a Nutcase. We had a great porter base, and then we added lots of peanut butter character."
Never content to keep things normal for too long, the Listermann team have cranked out numerous variants of Nutcase, including fruit versions to play on familiar peanut butter and jelly flavors. They've also brewed an Imperial Marshmallow Fluff variant.
Jared Brewer, manager at Listermann, says they originally brewed Nutcase as a joke when the world was supposed to end on December 2012 according to the Mayan calendar.
"Our co-owner Dan Listermann was very against us making a peanut butter beer," he jokes. "We made one for the end of the world so if it did end, we would get to try this beer out."
Fortunately, we're all still here, and Nutcase isn't going away either.
Garrison City Beerworks | Moral Sweatshirt 
With tens of thousands of beers being brewed by craft breweries in the U.S., coming up with memorable beer names can be tricky. Andy Gray, co-owner of Garrison City Beerworks in Dover, New Hampshire, came up with the odd name for his brewery's peanut butter stout entirely by accident.
"The name was kind of an inside joke," he says. "The staff was talking music one day and I walked in when Earl Sweatshirt came up, and I was convinced there was a rapper named Moral Sweatshirt. We decided that had the makings of a good beer name."
The brewers had enjoyed several peanut butter stouts from other breweries, including the Mast Landing beer highlighted in this article, and wanted to put their own spin on the idea.
"We wanted to make something a little thicker, more velvety, and capture the best parts of the peanut flavor," says Gray. "The base is chock-full of cacao nibs, the perfect complement to peanut butter. We wanted something drinkable, but smooth."
The brewery does variations on the 7.5% ABV peanut butter beer from time to time, including one with banana and one with strawberry.
"There will be more to come, as there's a ton of sweet flavors that pair well with PB and bring back visions of childhood," says Gray. "How about s'more with PB?"
CraftBeer.com is fully dedicated to small and independent U.S. breweries. We are published by the Brewers Association, the not-for-profit trade group dedicated to promoting and protecting America's small and independent craft brewers. Stories and opinions shared on CraftBeer.com do not imply endorsement by or positions taken by the Brewers Association or its members.