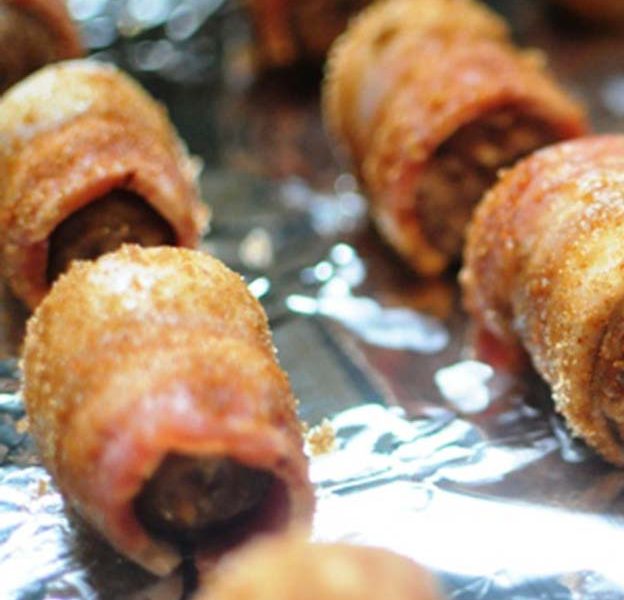 These beer brat bites created by TeaspoonSF.com are made with your favorite American lager, wrapped in bacon and dusted with brown sugar.
Ingredients
3 packages of bratwurst (or 15 links)
1 package of bacon (16 oz.)
2 twelve-ounce beers
2/3 cup brown sugar
1 tsp cayenne pepper
1 tsp dry mustard or turmeric
Any mustard of choice for dipping
---
Directions
To make the beer brats, preheat oven to 425. Line your jelly roll with foil or parchment paper.
Piece each of your brats several times with a fork.
In a large skillet, place half of the bratwursts and pour in 24 ounces of American lager. Once the beer is close to boiling, turn it down to low and let the brats simmer for 15-20 minutes, turning after ten minutes. The brats are done with they are no longer pink on the inside.
In the meantime, cut your bacon in thirds.
In a separate bowl mix the brown sugar, dry mustard, and cayenne pepper together.
Now that the brats are done, let them cool until you can handle them. Then cut the brats into thirds.
Wrap a piece of bacon around the brat, roll them in your sugar mixture and place them on your baking sheet with the bacon flap side down.
Bake them for about 20-25 minutes. Let them drain on paper towels before serving.
Add some mustard to your serving plate, and let them eat!