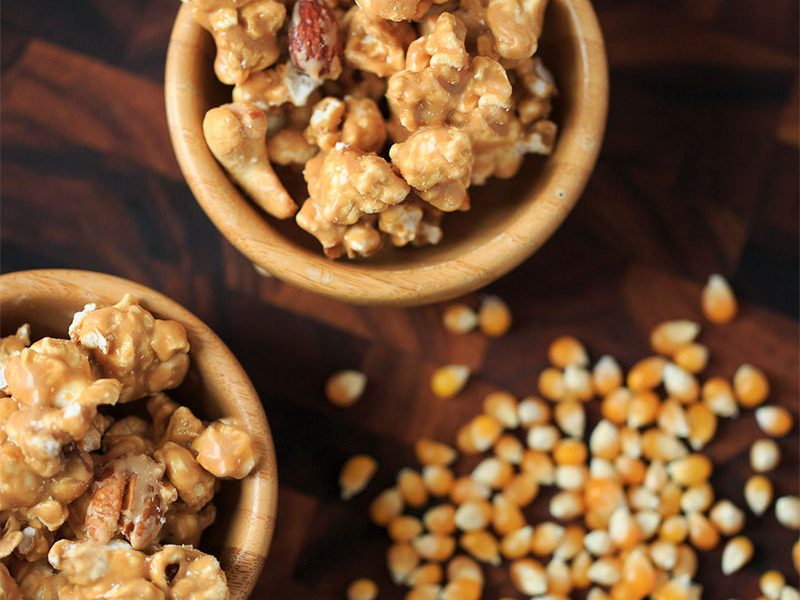 Jeff and Heather, the husband and wife duo behind He Cooks She Cooks, share a dangerously delicious recipe for beer caramel corn with pretzels and pecans. Try making this snack with your favorite caramelly brown ale and see how the flavors of the beer are emphasized by the sweet caramel coating on the popcorn.
Ingredients
1/2 cup un-popped popcorn
1/2 cup coconut or peanut or canola oil
1-2 cups chopped pecans
1/2 cups pretzels
12 oz bottle pecan beer or brown ale
3 Tbsp unsalted butter
2 cups brown sugar
1 cup heavy (whipping) cream
heavy pinch salt
2 tsp pure vanilla extract
1/2 tsp baking soda
---
Directions
Preheat oven to 250°F.
In a large pot, heat oil over high heat. Add the un-popped popcorn. Cover.
Moving the pan constantly, and slightly venting the lid, pop the corn.
Remove from heat, discard un-popped kernels and place in a large baking pan.
Add the pecans and pretzels and keep warm in the preheated oven.
Add brown ale and butter to a sauce pan and bring to a low boil. Let reduce by 1/4.
Add sugar and let boil for about 10 minutes, till it is like thick syrup (a small bit of the caramel dropped in cold water will form a ball).
Slowly add the cream and stir to incorporate. Cook for about 5 minutes till caramel is thick.
Remove from heat and add the salt, vanilla and baking soda. The caramel will foam up.
Remove pan of popcorn from the oven and pour caramel over. Mix till everything is well coated. Return to oven and let bake for 1 hour, stirring every 15 minutes.
To check for doneness, take a few kernels out of the pan and allow to cool. If the caramel is not sticky after a few minutes it is done.
Remove pan from oven and spread caramel corn mixture out on parchment paper to cool.
If you do not eat it all immediately, store in an air tight container.