It was undoubtedly one of the most ostentatious and downright crazy brewery grand openings the city of Atlanta has ever hosted. The weekend-long celebration and christening of Monday Night Brewing's second brewing location, called The Garage — a 22,000-square-foot complex complete with a barrel-aging facility, coolship, a trio of themed taprooms and an event space illuminated by glistening chandeliers — took place along southwest Atlanta's burgeoning Westside BeltLine.
[newsletter_signup_box]
Day one — Saturday, September 23 — was electric for more than 1,500 attendees, largely due to the live, outdoor performance of the Grammy-nominated and native Atlanta hip-hop group Nappy Roots. A sea of hands waved in synchronization to the thumping beats and infectious hooks, and their mouths followed word for word whatever lyrics the rappers recited. And, of course, everyone carefully held onto one of the seemingly countless brews of choice offered throughout the evening. Justly, Nappy Roots' favorite brew was the Front Porch Pale Ale because they actually made it, alongside Monday Night's brewmaster Peter Kiley, at the original West Midtown location.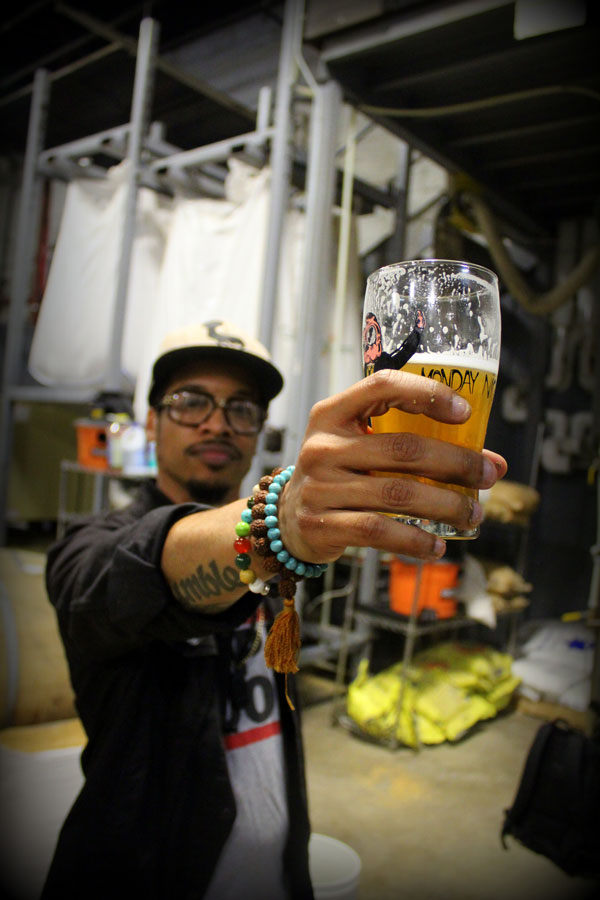 I have exchanged head nods and daps with the Nappy Roots over the years at different Atlanta functions, but we truly solidified a friendship when I was invited to document them brewing the Front Porch in April 2017. Members Skinny Deville, Fish Scales, and 808 Blake were literally hands on, shoveling the grains, adding hops and carefully following Kiley's instructions while their cameraman filmed the process. The artists' excitement and willingness to learn from a revered brewer on Monday Night's pilot system was evident, but the Roots members were not complete novices to the world of craft beer.
(MORE: Inside Atlanta's New Beer Hangout: Monday Night Brewing's Garage)
"They were undoubtedly brew heads," Kiley says as we have a few beers at the world-renowned Brick Store beer bar in Decatur, Georgia. A mutual friend had connected Kiley with the group, and they got together at the original Monday Night Brewery location. "After three hours of drinking [with them], I said, 'Let's make a beer! Actually, hell, let's do it tomorrow!'"
And that's how the Front Porch Pale Ale came to be. "It was just in time for their album release of 'Another 40Akerz' — that's why we made it 40 IBUs [International Bitterness Units]," Kiley says. "This led to the album release party we hosted at the brewery, which was awesome. I mean, you have to remember they are Grammy-nominated, so they've got hits and a serious following."
(Find: A US Brewery Near You)
Kiley is not only a talented brewer; he has extensive experience as a winemaker, serves also as Monday Night's lab director, and knows how to utilize the complex notes a wine or spirit's barrel can produce. The latter skill was ideal for the next collaboration.
"Following the Porch, we made the Humdinger, an imperial stout that pays respects to Nappy's Kentucky roots by aging it in bourbon barrels." Kiley says. "That was totally different for them because of the amount of time it took. Aging is so important to me. They all couldn't wait to try it, but Scales was so eager to taste it! He was like how we were as kids asking our parents 'Are we there yet?' constantly. [Laughing] Then they finally got a chance to when we added three pounds of Ugandan vanilla beans about seven months in. The end result was a phenomenal imperial stout we were all proud of."
(MORE: The New England Style IPA is The Anti-IPA)
To further prove how much Kiley and the Monday Night team cared for Nappy Roots' development of brewing expertise, they passed on their SABCO pilot brewhouse, which became the Roots' homebrewing setup for their Atlantucky beers.
Soon after, I met up with Nappy Roots to try a few of those homebrews along with a sneak peek of their first canned collaboration with Against The Grain at their Atlantucky headquarters; it was a garage-turned-man cave of Fish Scales' Hapeville, Georgia, home. Besides the record plaques, seats and the aforementioned brewing system, the setup was adorned by a suspended 50-inch high-definition television playing videos of legendary hip-hop artists from the "Golden Era" of the '90s on shuffle. Our conversation sparked off when Fish Scales and Skinny Deville started sharing memories crossing paths with virtually every artist who appeared on the screen.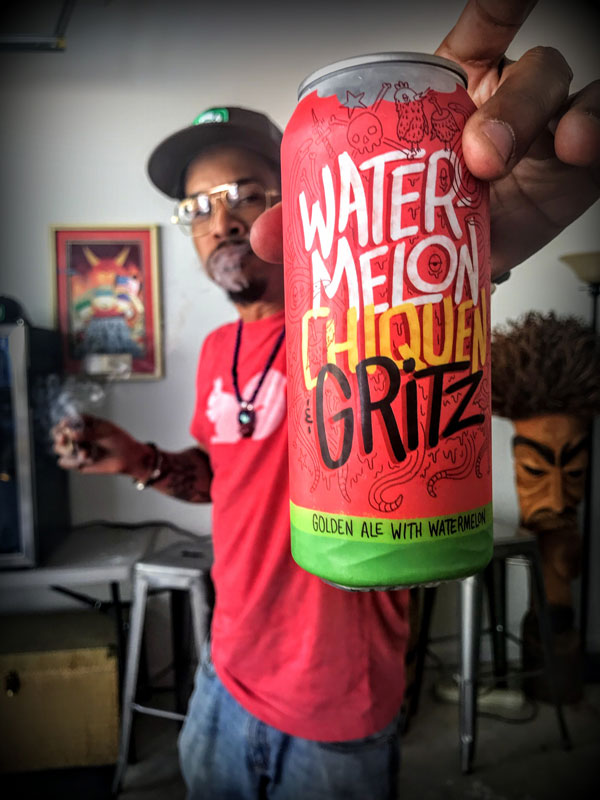 (LEARN: Craft Brewers Tell Us About Their Bucket List Breweries)
Our palates were lubricated with their impressively brewed concoctions, including the Strawberry Shawtcake Cream Ale and Mr. White White IPA poured directly from chilled Cornelius kegs. Both were well-balanced, perfectly carbonated and ideal for the early summer climate. And then it was time to taste their Watermelon, Chiquen and Gritz Golden Ale, brewed with watermelon. Following the formula of naming it after one of their albums, this one was their first canned concoction set for retail. It's a collaboration with Louisville-based microbrewery Against The Grain, and further solidifies the Roots' mission to connect the Peach State with the Bluegrass State. The label's artwork is mostly pink with a green ring along the 16-ounce can's base to replicate its refreshing adjunct; the name is printed as if it were tagged with a marker on a wall. The ale's balance and subtle sweetness did not disappoint, with an easy-drinking quality that made it a sneaky 6.15% ABV.
Like a truly cohesive band, the two members assumed their roles; Scales was more laid back and reminisced about their early days getting into the music game and one of his evident passions — sports — while Skinny played the historian on how Atlantucky came to be. The time was insightful and unforgettable. I left with the heightened confidence Atlantucky was no gimmick; it was for real.
(More: What is Craft Beer?)
In a formal follow up interview, both Skinny and producer 808 Blake — the self-described handler of public and business relations within the group — provided a detailed account of how Nappy Roots discovered their newfound love for craft beer, and their plans to keep the relationship long term.
Ale Sharpton: How did you all get into craft beer? Include the first beer you ever had.
Skinny Deville: Red Stripe might've been my first craft beer if you would actually call it 'craft.' I think it is, but it's been over well ten years since I first had one. I didn't know I was even drinking a 'craft beer' then. I remember our manager Chris Weeks mentioning the 'craft' word back in or around 2010-ish, then we started to take brew tours as we hit different markets back in 2014; I would say the evolution has been happening over the past eight years or so.
(List: A Beer Geek's Travel Checklist)
808 Blake: [Regarding craft beers] it really started with Scales leading the charge while we were touring. He would seek out local beers in whatever town we were performing in. I became his road partner in going to new bars and breweries, but all credit goes to him.
AS: When did it become a serious idea to actually brew beer?
Skinny Deville: For me, it came when I walked into Hop City [Craft Beer & Wine] and purchased our first homebrew kit. Once we had the basic equipment to make a small 5-gallon batch, it was on and poppin'. Of course, it was much harder than the purchase of basic equipment to make the beer drinkable, and that's where the actual learning and respecting of the process became more important than I originally thought.
808 Blake: After our first beer, the Front Porch Pale Ale with Monday Night, Skinny — who is our official inventor — decided to learn the business, and one thing about him is when he commits to something, he jumps in with both feet. Within a week, he's buying burners and brewing setups and just decided to nerd out.
(Enjoy: Brewpubs with Impressive Menus)
AS: So who's officially brewing?
Skinny Deville: Actually, it's just me and Scales behind the pots and paddles for now, but it's a team effort as we have a lot of our Nappy Roots team getting involved into different roles and responsibilities at Atlantucky Brewing.
(Meet You Upstairs: Great Brewery Rooftops)
808 Blake: Yeah, one thing about Nappy Roots is, as a group, we all focus on our strengths and from there [roles] are assigned. Me personally, I focus more on the business of what we're doing. I set up the meetings and PR of the beers, where Scales and Skinny focus on the actual brewing. [Laughing] I'm a great taster though, so whenever it's finished, I'm right there to judge.
AS: Once you decided on brewing, what made you decide to work with Monday Night brewing?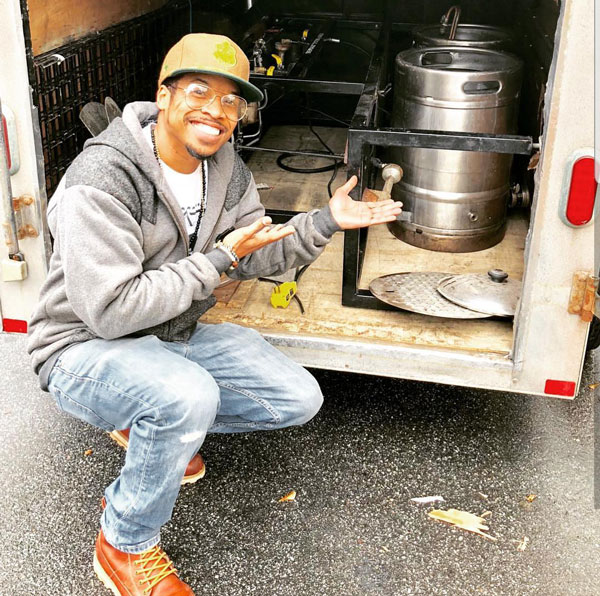 Skinny Deville: The decision to work with Monday Night Brewing was a no brainer. We both have a mutual friend, Robbie Hart, who introduced us to the MNB family, but we've had the collaboration idea brewing (pun intended) for a while. We have been to so many breweries around the country that, when we had the opportunity introduced to us in Atlanta, we jumped at the chance. Peter listened to our story when we met with them and pulled the fact that we were calling the album 'Another 40 Akerz. It had a yellow pig for the cover and decided we should call it "Front Porch." We wanted it to be a nice, crushable springtime beer, which is why it was semi-hazy and yellowish in color, plus 40 IBUs, like the title and 6.5% ABV for the party that comes with every sip.
(MEET: 4 Small Breweries Happy to Stay Small)
AS: Talk about that first experience brewing with someone of such expertise like Peter?
Skinny Deville: Man! It took longer than I had expected on the actual brew day. I didn't take into consideration how big the pilot system was and how long it took to get the water to the desired temperature. The entire process took most of the afternoon, but between all the beers and pizza, it took the sting out of the time spent. We had a blast nonetheless, learning the actual process and flow of how a successful microbrewery operates and handles the day-to-day business of brewing amazing beer. Jonathan Baker [Monday Night co-owner] and Peter are some of the coolest guys you could ever meet and they have been nothing less than amazing for all that they have done for Atlantucky.
(MALT SHOPPE: The Scoop on Milkshake IPAs)
808 Blake: It was a damn good day. We showed up at 10 a.m. and we're there shoveling grains, sweating it out, but also laughing and talking shop with Peter and the whole staff. We were there pretty much until 5 p.m., but it was a dope experience because we were there during the whole process. A real shout to both Jonathan and Peter for everything; those are our bros for life.
AS: Let's talk about the second collaboration with Monday Night, the gangster Humdinger joint.
Skinny Deville: The Humdinger was an imperial rye stout aged in Kentucky bourbon barrels for 10 months with Ugandan vanilla beans. I say "was" because it's officially sold out. The process for this beer was kind of similar to that of Front Porch. We sat with Monday Night and discussed doing something opposite of our previous collaboration, and we came up with a stout. We set up a brew date and went through the steps that come with brewing a stout, but on this one, we had to age the brew in bourbon barrels for 10 months, so this process was more drawn out — unlike Front Porch, which took about three weeks from brew to keg. I think it came in at 12% on the ABV and it's as smooth as the third release from Nappy Roots, which is why it has the title "The Humdinger," our best indie effort released to this day in my opinion.
(LAUGH: The Funny Thing About Comedy Nights at Breweries)
808 Blake: The Humdinger was something we wanted to represent our Kentucky roots, which is why the bourbon barrel was so important to us. We initially wanted mint chocolate to rep the Kentucky derby, but after consulting with Peter, the mint was kind of overkill, so we changed to Ugandan vanilla beans. It was poured to commemorate the opening of the Garage, which is why we performed there that night, which was a good time.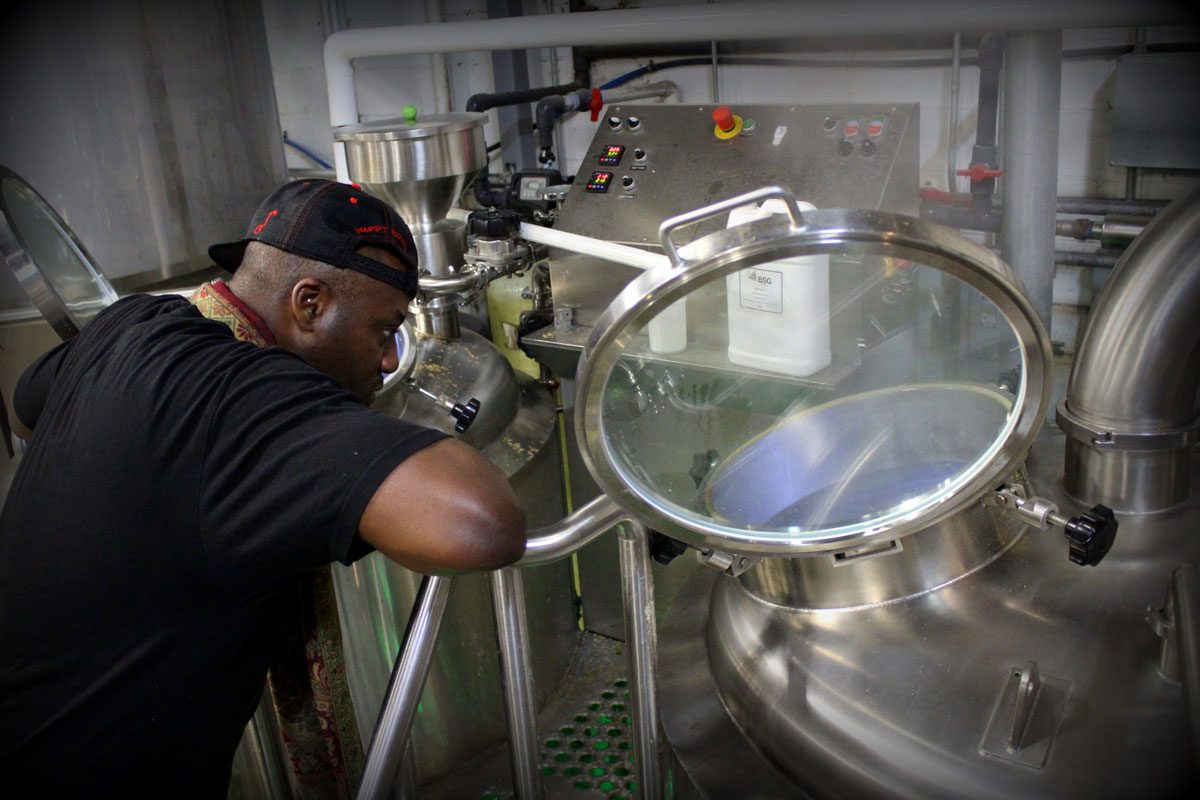 AS: So now you're well on your way with producing beer professionally on a larger scale. How did you connect with Against the Grain with your Watermelon, Chiquen, & Gritz Golden Ale?
Skinny Deville: Our third collaboration came through the assistance of Ron Clutch [another Nappy Roots member] to make the initial connection. He did the due diligence of finding the perfect brewery in Louisville — where three of us are from — and met up with Sam from Against The Grain. We presented the idea of a collaboration and they loved it. A few months later, me and Scales drove up the highway and sat down with their team over lunch at their brewpub. The food was amazing and the brewery down the street is just as dope. The love the city has for Nappy Roots and beer is equivalent, so what better way to collaborate [than] with the best in the city to do it? They have the best cans in the game and we loved the fact that we could get our brew in a can this time. We went with a 30-bbl brew and yielded 9,900 cans to distribute in Chicago, Kentucky and Georgia, which was another big move for us as crafty rappers and clever brewers.
808 Blake: Yes, credit goes to our brother Ron Clutch, who reached out to Against the Grain. They offered the chance to have our beer canned and in stores, which was first for us. It's currently sold out in all the stores [where] it was picked up, so we're happy about the reception.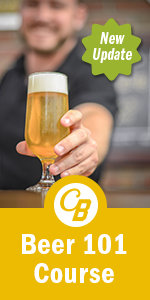 (STYLE SPOTLIGHT: Blonde Ale)
AS: How have you been received by the beer community, especially in Atlanta?
808 Blake: The Atlanta beer scene has been awesome. People have really taken us seriously in our pursuits, which has been dope. Big thanks to Beer Guys Radio and you, Ale, for showing us love and taking us seriously. Each party has been better than the last, which is really a blessing. I think it's only the beginning as people get acclimated to the thought of rappers brewing beers, the more the events will grow.
Skinny Deville: The love we have received from the beer community has been overwhelming. I think it's because we decided to learn how to make beer and respect the process versus just putting our name and brand on a can without even caring about all the effort that's put into brewing. I believe that puts us in a different category than those who just want to capitalize on the opportunities that are in front of the craft brew industry. We have decided to start a brewery from the ground up so we can learn and grow into becoming great brewers ourselves as our rap career matures into a 20-year career.
AS: Let's build on that more. Where do you think the relationship between hip-hop and beer will go?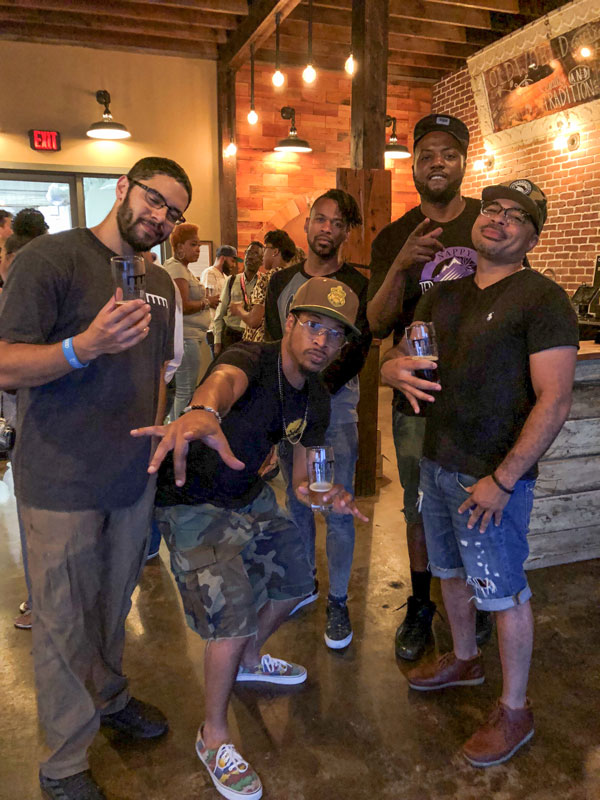 Skinny Deville: It's hard to predict the future, but as long as people listen to hip-hop and go out to have a good time, beer has a great chance of becoming the drink of choice. You don't have to leave the house to have a good time with a six-pack and a dope album that just dropped. If you tried to do that with a fifth of liquor, the results would not be the same. We really want to be a driving force in bringing craft beers to the black community, and hip-hop is the best way for it on our opinion; I think it's a universal art form. No matter who you are, you heard something in hip-hop, and beer is the same way, so I see the relationship between the two only growing and hopefully we can help bridge the gap.
(Seek the Seal: Post Your Photos on Instagram)
AS: Why do you think there aren't many minorities or people who look like you imbibing craft beer?
808 Blake: I think minorities have never been given the option of trying craft beers in a lot of the venues we frequent and that makes the idea foreign, but if we can start to push more clubs to have a local beer option, you would see that minorities enjoy craft beers as well.
(NEWS: Atlanta's New Realm Brewing Buys Equipment from Green Flash)
Skinny Deville: Right! They just don't know about it yet. It's coming, mark my words. Once you see a few larger-than-life celebrities endorse it, there will be a windfall of support and artists jumping in on the opportunities in the craft beer industry. It's wide open right now and that's why we are in on the reindeer games. Y'all ain't leaving us behind! Y'all go to the moon, we go to the moon! [Laughing]
AS: What are your future plans?
808 Blake: We're in talks to develop a docu-style TV show about our love for craft beers in some of the small towns we visit while touring. It will showcase how beer can act as a common ground for people who may not normally agree on things to come together and at least speak to one another over good craft beers. It will also showcase the growth of Atlantucky as well. We'll be announcing some major updates hopefully by fall 2018, so stay tuned!
Skinny Deville: The sky is the limit. The future is unwritten. Time and gravity are the only things that are constant. If we have the opportunity, Lord willing, then we will take everything that comes with hard work, patience, determination, ingenuity, relationship building and straight-up American grinding to make the best beers, rock the best shows and help anyway we can to bridge the gap between hip-hop and craft beer.
Be sure to follow Nappy Roots on their website and entertaining "Nappy Hour" podcast.
CraftBeer.com is fully dedicated to small and independent U.S. breweries. We are published by the Brewers Association, the not-for-profit trade group dedicated to promoting and protecting America's small and independent craft brewers. Stories and opinions shared on CraftBeer.com do not imply endorsement by or positions taken by the Brewers Association or its members.